Tall tale? D Magazine's "D TV Strikes Ratings Gold" headline has more than a little tarnish on it
03/03/13 10:46 AM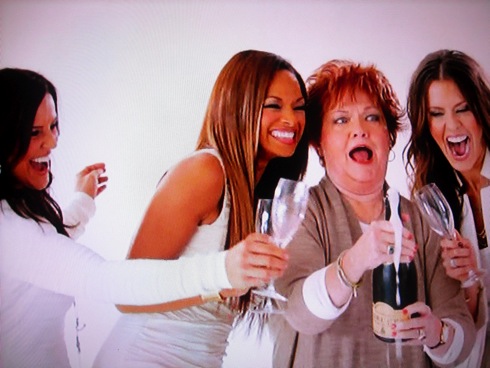 By ED BARK
@unclebarkycom
Wick Allison, the man who comfortably presides Caesar-like over D-FW's
D
magazine empire, got pretty excited Friday in a
FrontBurner blog post
headlined "D TV Strikes Ratings Gold After Only Eight Days."
He referred to
D Living
ranking No. 1 in its 10 a.m. slot Thursday among advertiser-prized 18-to-49-year-olds, "beating out
The View
at #2," in his words.
Allison also crowed about the magazine's other newcomer,
D: The Broadcast
(pictured above), running second at 9 a.m. in this key demographic to "ugh --
Jerry Springer
," as he put it. Both shows premiered on Monday, Feb.18th on KTXD-TV (Ch. 47), which otherwise carries a baby boomer-targeted lineup of evergreen reruns and
The Texas Daily
.
"It's only one day," Allison wrote. "But to quote our partner, London Broadcasting's Phil Hurley, 'This just doesn't happen in this business.' "
But things happen for a reason. And a big reason Thursday morning was live network coverage of Pope Benedict XVI's farewell, which affected substantial portions of the 9 to 11 a.m. schedules on Fox4, NBC5, WFAA8 and CBS11. In a Baptist-rich area like this, the Pope isn't exactly a ratings magnet. So the switch supposedly was on -- to a station not carrying him.
For the record, here are the official times, provided by networks and local stations, of how much coverage was devoted to the Pope.
***
ABC News and local affiliate WFAA8 carried Pope coverage from 9:53 to 10:41 a.m. Thursday. That pretty much punched out
The View
, which airs from 10 to 11 a.m.
***
NBC carried had the Pope from 9:53 to 10:45 a.m., knocking the light and fluffy stuffing out of the
Today
show during that period.
***
CBS went with the Pope from 9:44 to 10:29 a.m., obliterating chunks of both
Let's Make A Deal
and
The Price Is Right
.
***
Fox4, which has syndicated programming from 9 to 11 a.m., carried a Fox News feed of the Pope's farewell from 10:02 to 10:09 a.m. and again from 10:23 to 10:42 a.m. That left
Kelly & Michael
intact but made a mess of a 10 a.m.
Wendy Williams
repeat.
Before getting specific times from all four major broadcast networks, I left a comment on Allison's FrontBurner post alerting him that his
D
shows were in part competing with the Pope, not
The View
, etc. He replied, "If you're saying we beat the Pope, I'm even prouder. (Forgive me, Father . . .)"
Even so, a lot of people are scratching their heads at Thursday's Nielsen ratings. Largely because
D: The Broadcast
and
D Living
both averaged "hashmarks" (no measurable audience) for their first eight shows in both total viewers and 18-to-49-year-olds. That held true on Wednesday of this week as well -- wall-to-wall hashmarks for both shows in both ratings measurements.
On Thursday, though,
D: The Broadcast
suddenly spring-boarded to 33,733 total viewers, with a very nice percentage of 20,732 in the 18-to-49 range. And
D Living
likewise drew 33,733 total viewers and exactly the same number of 18-to-49-year-olds.
For comparison purposes, Wednesday's edition of
The View
had a timeslot-winning 38,911 viewers in the 18-to-49 demographic; Thursday's edition, all but rubbed out by the Pope, drew just 16,904 viewers in the 18-to-49 age range.
Here's what's really odd, though. And something Allison didn't mention in his FrontBurner post. KTXD's 8 a.m. Thursday repeat of
Daniel Boone
(1964-70 on NBC) had 37,175 total viewers as a lead-in to
D: The Broadcast
. Even more astoundingly, 17,861 of them were 18-to-49-year-olds. But Wednesday's
Daniel Boone
episode had just 5,507 total viewers, with none of them in the 18-to-49 range, according to Nielsen.
A big posse of 18-to-49-year-olds suddenly watching
Daniel Boone
? As even Dan'l himself would say, "Somethin' doesn't smell right, and it ain't that dead possum I forgot to skin for dinner."
Whatever happened Thursday had a Pope Benedict flavor to it, at least in terms of the two D TV shows. But that day's greatly inflated numbers for
Daniel Boone
also make one wonder if Nielsen somehow had a pretty big ratings malfunction Thursday morning.
If the numbers for
D: The Broadcast
and
D Living
continue to surge -- or even stay anywhere near where Thursday's were -- then KTXD's Hurley and
D
's Allison might actually be aboard a gravy train someday. For now, Allison says that both parties are engaged in a daring "experiment in exercising the power of the
D
-branded print and online channels to launch us in a new medium."
"It is a credit to Phil Hurley's vision," Allison also wrote, "that he believed the
D
brand could break through to grab the attention of Dallas viewers."
Hurley probably would like to hang me from the highest tree at this point. And Allison won't be inviting your friendly content provider to any mixers or slumber parties. But this is the story behind and beyond the "D TV Strikes Ratings Gold" headline. And now you know.
unclebarky@verizon.net