This just in: a night in the lives of D-FW's late night newscasts (Fri., Feb. 17)
02/20/12 10:44 AM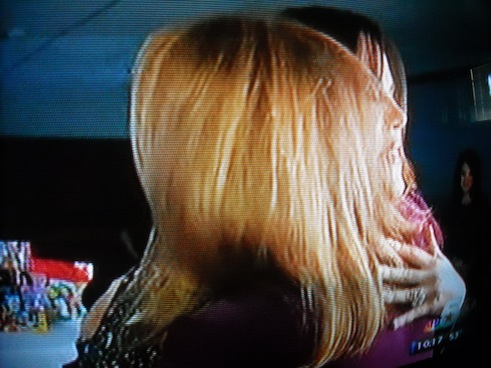 NBC5's Meredith Land and Khloe Kardashian hug it out. Photo: Ed Bark
By ED BARK
It should be a hard and fast rule. There's no hugging in TV journalism, at least during the on-camera portion of a story.
But star-struck anchors sometimes don't know any better. So NBC5's
Meredith Land
and Khloe Kardashian noisily embraced at the close of a taped Friday 10 p.m. story labeled "Kardashian Countdown."
"Well, I'll see you soon," said Khloe, whose E! TV series with the Dallas Mavericks' still inept Lamar Odom began Season 2 Sunday night after hubby contributed 2 points and 2 turnovers in that afternoon's road loss to the New York Knicks.
"See, we're friends now," Land then told co-anchor
Marc Fein
(subbing for
Brian Curtis
). "You like that? We hugged!"
WFAA8's
Debbie Denmon likewise crossed this line a few years back by requesting and getting an on-camera hug from former Dallas Cowboys receiver Terrell Owens during a birthday party he threw for himself. In short, get a room. And at the very least, hug it up privately if you must -- but not as part of a story.

NBC5 periodically shows strong signs of being much better than this. But Friday's 10 p.m. edition was too much of an amateur hour -- in just 35 minutes time.

Fein opened the newscast by solemnly intoning, "We begin tonight with a live look at the Dallas skyline as North Texas prepares for a new round of rain."

Yeah, it rained some on Saturday. And three of the four major TV news providers led with this impending "news" while CBS11 made rainfall its No. 2 story. Amazingly, though, WFAA8 weathercaster Pete Delkus kept his coat on while reporting from outside the station's Victory Park studios. Fox4's usually buttoned down Dan Henry was the only one to strip down to his shirtsleeves.

NBC5's usually reliable Night Ranger, Scott Gordon, also stepped in it with a prominently played "he said, she said" time-waster on a young woman who said her wallet was filched from her apartment by a man claiming to be an Ambit energy employee. But during a phone conversation with Gordon, a company representative said this in fact never happened.

A printed story on the station's nbcdfw.com website continued to leave the matter unresolved Monday. So why was it news in the first place? In a No. 5 television market of nearly 6.8 million, NBC5 put this thing right behind its "new round of rain" top-of-the-news alert. Gordon is one of D-FW's most dogged and solid nighttime reporters. He really shouldn't have to do this stuff.

Shortly after the Land-Kardashian hug, new sports guy David Watkins (from a Minneapolis station) rounded out NBC5's Friday edition by saying that the Mavericks' Dirk Nowitzki scored 26 points in that night's big second half comeback against the 76ers. Actually, it was 24. A minor mistake, but on this night it fit right in.

Friday was prototypically short on worthy enterprise reporting. WFAA8 investigator Brett Shipp easily had the best effort. He journeyed to nearby Covington, Texas to report on allegations that the small town (of between 250 and 300 residents) is being run as a veritable police state by police chief Wade Laurence.

Shipp talked on camera to two City Council members, an ex-mayor and a former Covington police officer. They all charge that Laurence is covering up a department drug scandal and threatening those who seek to expose it. A City Council meeting hasn't been held since November, waylaying a petition signed more than 60 Covington residents who want the four-member police department disbanded.

Shipp and a cameraman were allowed inside the police office, where Laurence could be seen from a distance saying, "I don't care to be on camera."

Near the end of Friday's newscast, Delkus, sports anchor Dale Hansen and co-anchor Gloria Campos again twitted WFAA8's heavily played story on the nearby Omni Hotel's rooms with a view. Some patrons have been seen in various stages of undress through upper story windows, reporter Monika Diaz said during a lengthy Monday story.

Delkus noted that his opening weather tease originated from the roof of WFAA8's studios.

"Oh, what a view of the Omni, Dale," he said.

Hansen joked that the hotel's manager had "called the police" on Delkus before Campos jabbed, "Put away that telescope."

Diaz had a better story earlier Friday. She followed up on the police release of a 26-year-old man who was said to be among the accused in the TCU drug dealer scandal. But that information was erroneous. And defense attorney David Wells said that such "sloppy" work "makes everything suspect in all the warrants."

Two of the four stations, Fox4 and CBS11, nonetheless continued to display pictures of all of the accused during Friday's late night editions. And The Dallas Morning News splashed all of the pictures in the center of its Sunday front page.

As noted previously in these spaces, this would not be occurring if any of the accused happened to be the son or daughter of upper level TV or newspaper management. Instead you'd see a sudden outbreak of "restraint" rather than the recurring parade of up-close photos.

Fox4 reporter James Rose tempered the by now excessive use of these pictures with a story on how alcohol abuse by college students annually claims far more lives than drug abuse. Binge-drinking remains a popular activity, Rose reported.

On CBS11, reporter Arezow Doost had a piece on how TCU is trying to put the drug bust scandal behind it. Her story was tied to opening night of the school's baseball season. But her station, like Fox4, continued to display pictures of every student arrested during Tuesday's police sweep.