Dungan does another one-night stand on CBS11 while the station also probes "Exploding Toilets" on first day of May "sweeps."
04/28/16 10:35 AM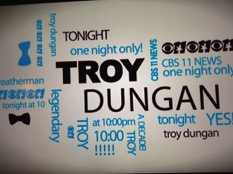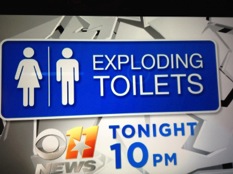 CBS11's loading up for opening night of May "sweeps." Photos: Ed Bark
By ED BARK
@unclebarkycom on Twitter
A second coming of evergreen weatherman Troy Dungan and an investigative probe of "Exploding Toilets" will lead CBS11 into battle on opening night (Thursday, April 28) of the May "sweeps" ratings period.
These two events otherwise are intended to be mutually exclusive. Dungan, who was WFAA-TV's signature forecaster for 31 years until his retirement on July 18, 2007, will mainly be on hand to promote his new book,
Jesus Makes Salsa by the Seashore
, which was detailed in a
March post on unclebarky.com
. But Dungan said in a telephone interview Thursday that he'll also slip in to do a "7-Day Forecast" at the end of meteorologist Scott Padgett's segment before sitting down with co-anchor Doug Dunbar to chat about the book and the current state of TV weathercasting.
"I"m certainly not going to work for CBS11, but who can resist the chance to start up the rumor mill again?" Dungan said.
CBS11 currently is seeking a replacement for Dungan's favorite D-FW weathercaster, Larry Mowry, who
left the station in March
after an eight-year run to join WLS-TV in Chicago.
"I told Larry when he left that he was the last calm, reassuring voice in weather in Dallas-Fort Worth," Dungan said.
He's appeared on CBS11 before, also during a ratings sweeps period. That was in February 2011, when both Dungan and his longtime friend and former WFAA colleague Tracy Rowlett were profiled in "Where Are They Now?" segments during 10 p.m. newscasts. Dungan rankled WFAA management at the time by lauding Mowry as his favorite forecaster rather than his successor at WFAA, Pete Delkus.
Dungan said CBS11 president and general manager Gary Schneider asked Dungan about a return visit during a conversation at the April 11th
Press Club of Dallas salute to CBS newsman Bob Schieffer
.
The station later followed up with an offer to send a car equipped with a nice bottle of wine, Dungan said. So he agreed.
"I'm not coming to work here. I'm just shamelessly promoting my book," Dungan emphasized.
An on-air promo for Dungan's appearance ran in tandem with the "Exploding Toilets" come-on during Thursday's early morning newscast on CBS11.
"Find out if you're sitting on a time bomb," a pitchman said after insisting that this is "no laughing matter."
Veteran investigator Ginger Allen will do the report while Dungan goes with the flow, so to speak.
"Tune in at 10 tonight," he said by telephone. "And watch the old weather guy and the exploding toilets."
In last year's May "sweeps" competition among D-FW's four major TV news providers, CBS11 ran second in total viewers (behind WFAA) and fourth with 25-to-54-year-olds (the main advertiser target audience for news programming).
Email comments or questions to:
unclebarky@verizon.net