Barkin' with NBC5's "Newdawg"
04/24/08 04:28 PM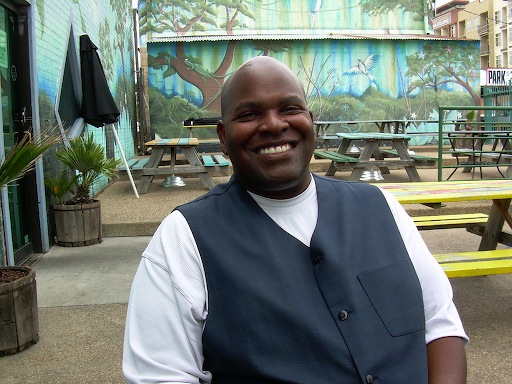 Newy Scruggs at ease: there are worse things, he says. Photos: Ed Bark
By ED BARK
You can't teach an old dog new tricks, or so it's often said. But the NewDawg, nickname of NBC5 sports anchor Newy Scruggs since his college days, says he's learned to roll with less on-air time for him and more freedom for other pursuits.
"I used to take it personal. And for a while there I was mad," Scruggs says of a weeknight sports segment that's gradually been cut in half -- from four minutes to two -- since his April 2000 arrival in Dallas-Fort Worth.
Scruggs says he finally went toe-to-toe with NBC5 news director Susan Tully during a closed-door meeting in December 2006. He recalls her being angry and on the verge of suspending him for venting publicly in his weekly column for the
Fort Worth Star-Telegram
.
"There were tears involved on both sides," says Scruggs, who cleared this interview with Tully before agreeing to be profiled. "It was a really, really long, deep conversation. And since then I've been cool with it."
On a typical night, Scruggs gets roughly two-thirds or sometimes just half the time given to his competitors at Fox4, WFAA8 and CBS11. Scruggs also has to deal with having his sports segment split in two by a three-minute commercial break. And his downsized staff, being depleted further with the announced
departure of Derek Castillo
, could make Scruggs virtually a one-man band until a reinforcement arrives.
Still, Scruggs, 37, says life is very good, both personally and professionally.
"I'm thankful to her (Tully)," he says. "If my time's not cut, then I never get into real estate. I never start getting involved with other companies that I have now. I changed my mentality. It's not Channel 5's responsibility to make me rich. If this hadn't happened, then I'm still one of these people who thinks, 'I'm on TV. I'm OK.' This industry's changed, so I needed to do something to protect my family."
Since arriving in Dallas from Los Angeles -- "I'm in year nine of my four-year plan to get back there," he laughs -- Scruggs has gotten married and is the proud father of two daughters. Back in the day in L.A, he loved living next door to a male porn star -- Vince Voyeur -- who did much of his filming at home with a variety of well-appointed women. But being a family man changes a guy.
"You think differently," Scruggs says. "I've learned to shut up. My agent says I've learned to dance. . . Two minutes a night are easy for me. So I get to spend more time on my dinner break and at home with my kids. This is a good station, and I'm blessed enough to realize that.
"People get tired of us anchors saying, 'I want this. Me, me, me.' For the money they pay me, people will take my two minutes a night. Friends have told me, 'I'll do it. And I'll do it all damned day long.' "
Scruggs also has his own sports blog --
newdawg.com
-- and an "Out of Bounds" Sunday night show during football season that gives him the extra space he doesn't get on weeknights.
"I'd like to have more time! But it is what it is," he says.
Earlier this month, veteran Fox4 sports anchor Mike Doocy blogged on his own station's Web site about what he sees as the possibly imperiled future of his regular 9 p.m. newscast sports segment.
Doocy, whom Scruggs considers a friend, "is almost where I was at a while back," he says. "He's not happy. And when you're not happy, you start to wonder, 'OK, are they gonna cut out my job?' But I think Mike's gonna be fine.
"They've got a damned good sportscaster over there," he adds, "and I think at the end of the day, Mike did what he had to do. The dog's gotta bark a little bit, and I think his station will understand. It'd be one thing if he was producing some bad stuff. but Mike's done good work. And you've gotta keep that in there."
Scruggs has another, deep-seated reason for backing NBC5 despite the station's downsizing of his nightly sports reports. Station management, and Tully in particular, had his back, he says, when racially motivated death threats were aimed at his family a couple of years ago.
His wife was pregnant with their now one-and-a-half-year-old daughter at the time. And Scruggs says he was getting calls on his cell phone from knuckledraggers who told him in so many words, "You wanna die? You want your daughter to die?"
"You get used to people saying stuff like 'You're a nigger and niggers can't do sports here.' You don't like it but you deal with it. You don't like me, fine. But don't take it out on my kid. That was frustrating and it really made me mad. You're scared, too, because they know where you are at 6:20 and at 10:20."
Scruggs says he "kept it in for a while. But I finally went to her (Tully), and she got the police involved. The station did everything it could. Those are the little things that people don't know about. But we got through it, and I'm thankful that when I told management, they immediately asked, 'What can we do?' That says a whole lot. They rallied around me. But part of me really just wanted out. I never had to deal with this in California.
Never
.
"I never will feel guilty about the money I make when you have to experience that kind of stuff. It was very tough, and the folks at Channel 5 were very good to me. And it stopped."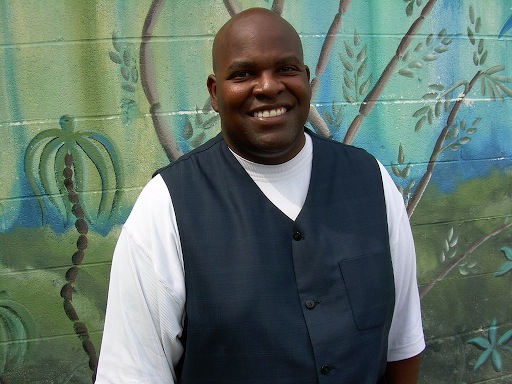 A good part of Scruggs still longs to make it back to L.A., where he left KCOP-TV (then a UPN station) after "I got into a contract battle, lost that and ended up here. I actually tried to kill the deal off after I agreed to it at Channel 5. I tried to back out."
Scruggs still had a radio show in L.A. at the time, and was dabbling in both TV acting and production. He played a sportscaster in the short-lived TV series version of
Clueless
and had hoped to host a reality show called
Big House
that he put together in partnership with the then unknown standup comic Dave Attell.
As Scruggs tells it, CBS instead went with
Big Brother
, an almost identically formatted import from Europe that remains on the network.
"I just liked living in L.A. so much," he says. "There's a lot to do, a lot of different people, a lot of different cultures. It's an international city, and I'd come to fall in love with that."
Instead he stuck to an agreed-on four-year deal with NBC5 that put him in D-FW just a few months before the Peacock's presentation of the 2000 Summer Olympics. The station quickly teamed him with veteran meteorologist David Finfrock in a series of odd couple promotional spots in which they played golf, baseball and basketball together.
During filming of the hoops segment, "I ran David over," Scruggs says. "Those were fun. They were cool to do."
The station made ample room for both Scruggs and his sports commentaries in the early years. But as time wore on, his time got shorter. Athletes in action supposedly are of little interest to most advertiser-courted 25-to-54-year-old women, who watch D-FW's late night newscasts in significantly larger numbers than men of the same age range. And with NBC5 dominating the 10 p.m. ratings race from February 2002 until early 2007, "What could I say?" Scruggs asks rhetorically.
His latest contract with NBC5 is up in January, and Scruggs already has stayed in D-FW for twice as long as anywhere else. As an "Army brat" born on a German military base, he got used to moving at least every four years.
"I loved it," he says, noting that a nomadic life as a kid also prepared him for the television business. Before L.A. and Dallas, he worked at TV stations in Myrtle Beach, S.C. (his first job), Austin and Cleveland, where two winters were enough for him.
The Scruggs family currently resides in Arlington, home base for dad's expanding side businesses. Scruggs says he's amassed $1.7 million in real estate holdings in recent years. It may be enough to make him stay put in North Texas unless NBC5 at some point gets out of the sports business all together.
"People often leave situations and don't realize how good they have it," says Scruggs, sounding more like a wizened old pro these days than the sometimes impulsive gypsy he used to be. "What it comes down to is 'Are you happy?' And I've got a good life, man. I make more money than I ever thought I could.
"Sometimes you've got to step back and appreciate it."