Where the action is: early morns, not late nights
06/19/12 11:09 AM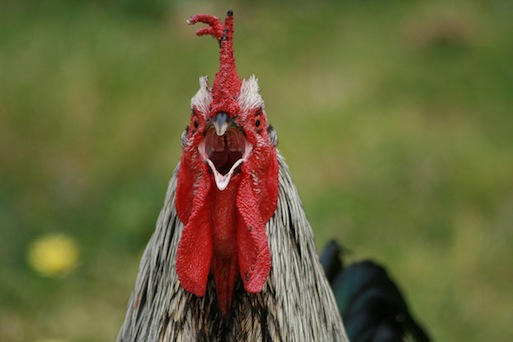 By ED BARK
@unclebarkycom
It's been seven years since your friendly content provider sequentially visited the early morning news programs on WFAA8, CBS11, Fox4 and NBC5.
And then wrote the following lead sentences: "Times like these make the body clock go cuckoo. The rising stars of local television news are seeing stars as they head to work in the taunting, pre-dawn darkness. They arrive no later than 4 a.m. to put on happy faces for shows that once were seen as dumping grounds -- or at best, proving grounds, for young TV talent yearning to move up.
"Changing lifestyles, earlier risers, longer commutes and unlimited audience growth potential have combined to change all that. Early morning newscasts, particularly the 6 to 7 a.m. segments, are now prime, revenue-rich battlegrounds bowing only to the still-reigning 10 p.m. king."
So what's changed in the seven years since? Not a lot, except the ever-changing personnel. But morning shifts at all four D-FW stations now begin a half-hour earlier, at 4:30 a.m. And the combatants are far more aggressive in promoting their waker-uppers in pursuit of:
1.
Two-and-a-half-hours of ad revenues during the periods that Fox4,NBC5, WFAA8 and CBS11 go head-to-head
2.
An audience with limited time but income-generating jobs. Otherwise why would they be getting up so early?
3.
The opportunity to draw a far higher percentage of 25-to-54-year-old viewers, the main advertiser target audience for news programming.
Next week, beginning on Monday, June 25th, CBS11 again will begin anew in another attempt to pull its early morning ratings out of what sometimes must seem to be a bottomless toilet. Incoming Adrienne Bankert, from NBC affiliate KCRA-TV in Sacramento, will team for the first time with D-FW veteran Brendan Higgins, who worked the early morning shift at NBC5 seven springs ago. But he hasn't been on the air since leaving the Peacock in January 2010 over a contract disagreement.
No anchor duo has remained in place since the late spring of 2005.
***
Deborah Ferguson is still at NBC5 after working early mornings with Scott Friedman, interim partner Omar Villafranca and now another D-FW newcomer, ebullient Mark Hayes from Atlanta.
***
Fox4's Tim Ryan remains the dean of dawn patrol anchors, currently teaming with Lauren Przybyl after Megan Henderson left for Los Angeles a few years back.
***
CBS11's Doug Dunbar has moved to nights while his former early morning partner, Shannon Hori, is at the CBS-owned station in Miami. Before announcing the Higgins-Bankert duo earlier this month, the station tried and failed with Scott Sams, Ginger Allen, Lisa Pineiro, Teresa Frosini (who remains as a traffic reporter) and Keith Garvin (recently reassigned as a reporter).
***
WFAA8 by far has had the most tumult of all. Michael Rey and Debbie Denmon, the spring 2005 team, were supplanted by Justin Farmer and Jackie Hyland. Cynthia Izaguirre then replaced Hyland. But on her first day with Farmer, he informed management that he was heading back to Atlanta. Brad Hawkins and Jeff Brady (both no longer with WFAA8) were interim early morning anchors before the station settled on Chris Flanagan. When he didn't work out, WFAA8 turned to Ron Corning, backing him with an ongoing comedy promotional campaign that has helped to put the station back in the thick of the early morning ratings race after several years of distant third-place finishes.
Fox4 and WFAA8 have the same weathercasters in place -- respectively Evan Andrews and Greg Fields. And NBC5 and WFAA8 rely on the same traffic reporters -- Tammy Dombeck and Alexa Conomos (currently subbing for Izaguirre while she's on maternity leave).
Meanwhile, Nielsen numbers for the
four-week May "sweeps"
further reinforce what veteran Fox4 producer Bruce Smith said back in May 2005: "People who are up watching at that hour, they've certainly got a purpose in life. They tend to be people who are going to jobs. They're in the prime of their lives, so certainly they're important to advertisers, too."
All four stations had more "desirable" viewers at 10 p.m. than at 6 a.m. in the May sweeps. But the percentages are striking. For the late night news, only Fox4 drew more than half of its total audience from the 25-to-54 motherlode. More typical was WFAA8. It led the way with 74,329 viewers in the 25-to-54 demographic, but its total audience was 186,152 viewers.
At 6 a.m., Fox4 ran first with 51,369 viewers of the 25-to-54 persuasion; the station's total audience was 93,076 viewers. WFAA8 also drew more than half of its total viewership from the 25-to-54 pool while NBC5 fell just slightly below 50 percent.
Even moribund CBS11 came very close to the 50 percent mark, with 30,551 total viewers and 14,956 of them in the 25-to-54 range.
Contrast those numbers with CBS11's 10 p.m. performance. It led in total viewers with 196,313, but fell to fourth with 25-to-54-year-olds (just 57,770 of them, less than 30 percent).
The 10 p.m. newscasts continue to draw the largest audiences in both ratings measurements. But all four stations suffered significant year-to-year-losses at an hour loaded with a wealth of more attractive choices for many younger viewers. In the early mornings, though, there's not much else going on, with viewers of all ages mostly wanting an early morning fix on weather and traffic.
CBS11, in part shackled by continued lousy "lead-out" ratings from its network's latest 7 to 9 a.m. incarnation, has watched millions of dollars in potential revenues go to its competitors.
WFAA8 lately is getting a larger piece of that pie with its aggressive, seemingly non-stop promotion of Corning and company. NBC5 also showed renewed momentum in May while Fox4 faltered but still won the big 25-to-54 prize.
"It truly is the last frontier," former CBS11 president and general manager Steve Mauldin said seven springs ago. He's still got that right in times when CBS11 is starting from scratch again, itching to make an impact.