This just in: A night in the lives of D-FW's late night newscasts (Tues., April 28)
04/29/09 12:09 PM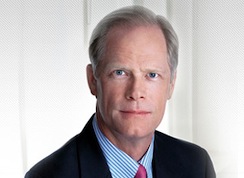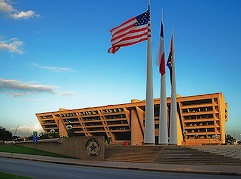 WFAA8's longrunning Brad Watson messed with City Hall Tuesday.
By ED BARK
D-FW's late night local newscasts found themselves in the cross-hairs of the competing Mavericks-Spurs playoff game Tuesday.
That's not a good position to be in, as detailed further in our companion
"Local Nielsen Ratings Snapshot."
Here's some of what you missed:
HALL MONITOR
-- Reporter
Brad Watson
, still jaunty in his 31st year with WFAA8, had a semi-cheeky but effective story on questionable city government outlays during times of budget cutbacks.
Titled "Frivolous Funding?", it noted that Dallas city officials had approved $19,750 to clean up the bronze steers near the convention center; $3,025 for a neighborhood arts program called "Speaking with Bees;" and $24,900 to fund a survey of how "engaged" city employees are while performing their jobs.
Watson deployed his usual semi-deadpan delivery during these proceedings. He never sounds bored but knows how to sell a story without impersonating infomercial kingpin
Billy Mays
. The spending highlights/lowlights were intercut with comments from city manager Mary Suhm, who calmly defended them.
Watson then threw a little brushback pitch at story's end after noting that the city employee survey is "just finishing up."
"And that's a good thing," he told viewers, "since their attitudes may be changing. Job cuts are among the ways the city may need to reduce spending. A recession can break a city budget. But spending habits? Sometimes as hard to break as a bronze steer."
FINALLY FEELING ABLE TO TALK
-- NBC5 and CBS11 both led their 10 p.m. newscasts with one-on-one interviews of Dallas police lieutenant Regina Smith, whose husband, Sr. Cpl. Norman Smith, was shot and killed on January 6th while serving an arrest warrant.
Smith had spoken earlier in the day at a public event before NBC5's
Ellen Goldberg
and CBS11's
J.D. Miles
sat down with her.
Miles said it was her "first lengthy" interview, which it wasn't as far as Goldberg is concerned. Smith told both reporters that she'd always wear her deceased husband's wedding ring, and that they had impulsively kissed at their workplace on the morning before his death.
BADGERING MOTORISTS
-- Fox4 reporter
James Rose
's weekly "Street Squad" segment was on a Plano speed trap designed to catch teenagers but netting adults instead.
Rose got in the face of some speeders after they were pulled over and cited. One man put his hand over the camera while asking, "Who are you?" Another drove off after Rose asked, "You got anything to say?"
"Nothin' to say," the reporter said, shrugging theatrically.
Rose was working with the Plano police on this segment. Still, he had no business playing a cop. Imagine what his reaction might be were he a motorist on the receiving end. It's bad enough getting a ticket. You shouldn't also have to deal with, in these cases, a grandstanding reporter.
OBVIOUSLY HE'S NO ROCKET SCIENTIST
-- Fox4 anchor
Steve Eagar
noted that the man who authorized that embarrassing and alarming New York City flyover is a "former A.H. Belo board member." That would be Louis E. Caldera, who
left Belo
in January to become an assistant to President Obama and director of the White House Military Office.
Caldera has taken full responsibility for
the fiasco
. Dallas-based Belo owns WFAA8 and
The Dallas Morning News
among its many media properties.
PIGGYBACKING
-- Both Fox4 and NBC5 were a day late in reporting a "Fake Police Officer" story that WFAA8's
Rebecca Lopez
broke on Monday's 10 p.m. newscast. But the Peacock's
Scott Gordon
was the only one to report Tuesday on an ex-con who pretended to be with the Air Force while cashing checks after stealing thousands of bank account numbers.
"He looked like a regular G.I. Joe kind of guy," Euless police officer John Williams told Gordon.
HANSEN UNPLUGGED
-- Still feeling his oats after vacationing in St. Thomas, voluble WFAA8 sports anchor
Dale Hansen
twitted a Dallas Mavericks "watch party" in progress inside the American Airlines Center.
"Why watch a game at home when you can pay $21 for a beer and hot dog to watch it there?" he wondered.
Actually, Hansen could and probably should have originated his sports segment from the watch party, located just a block or so from WFAA8's Victory Park Studios. That would have added a little extra electricity to the proceedings.
Instead he was around at newscast's end to comment on a "Spicy Sermon" filler about an area pastor who's urging married church members to have sex at least 100 times a year.
"I've been married 26 years," Hansen rejoined. "And I don't think we're at 100 yet."
Another chuckle-fest kicked in before anchor
John McCaa
signed off by saying "Be fruitful and multiply."
Sixteen nights to go. Until the next time, here's a link to Watson's
"Frivolous Funding?"
story. (Note: WFAA8 doesn't yet allow Web site embedding of its stories, so sorry for the extra work.)