Guy and dolls
09/24/06 07:33 PM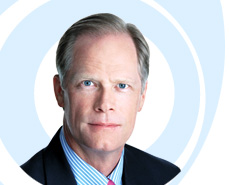 Brad Watson, Channel 8 newsBy ED BARK
Most boys don't play with dolls. But one grown-up male TV reporter did in the interests of dramatizing the Texas governor's race.
"It's a little like throwing pasta at the wall. Let's see what sticks," Watson said of a much-talked about Labor Day story starring a Kinky Friedman talking "action figure" and Barbie-and-Ken mockups of his three opponents. Watson went behind-the-scenes by telephone from Love Field Sunday night while waiting to board a flight to Austin for Monday's joint campaign appearance by Friedman and former Minnesota governor Jesse Ventura.
The 27-year veteran of Belo-owned News 8 is known as a straight-ahead, impeccably dressed perfectionist who sometimes seems to have been born in a suit. But Watson went a little wild and crazy on Labor Day, with an assist from his two grade school-age daughters and one of their friends. For a look at what we're talking about, go
here.
The intrepid reporter already had a Kinky action figure that he'd bought while covering the maverick candidate's campaign.
"I wanted to do something that was kind of innovative and clever...instead of just doing a campaign strategy piece that Wolf Blitzer might do," he said. "I wouldn't have done it if there hadn't of been the Kinky figure. So I wondered how we could do this without making it look cheesy or goofy. It had some nuggets of information in there and it got people's attention. The thing that's been remarkable to me is the voter apathy out there."
His two daughters, Eleanor, 9, and Emily, 7, were the principal costumers, with an assist from Eleanor's fourth-grade pal, Shannon Shiffer. First the Watson kids found a Ken "groom" doll, took his tuxedo off and put him in a dark suit and tie.
"He already had amazingly similar hair to (Republican governor) Rick Perry," Watson said.
Shannon then provided the Watsons with another Ken doll to impersonate Democrat Chris Bell. They painted his hair white. Presto.
Independent candidate Carol Keeton Strayhorn provided a tougher challenge. "There's not really a Barbie grandmother edition," Watson said.
They settled on Barbie's "Aunt Midge," described by Watson as "an older figure with an older woman's clothes, more loosely fitted, more full-figured, you might say." Her hair got a coat of white, too. Casting completed.
Watson said he had no trouble selling the one minute, 54-second piece to Channel 8 news management. On-camera, he held the figures at arm's length and also moved them around a makeshift Texas map while dispensing nuggets about their respective campaign strategies. The talking Kinky figure chipped in, too, by opining, "I can't screw things up any worse than they already are." His rivals remained mute.
Only one viewer complained directly to him, Watson said. She wondered how he dared to "depict our political leaders as dolls and figurines."
"But I got a dozen or more emails saying it was great," he said. One viewer wanted to buy the complete set of dolls to be auctioned off at a Frisco fundraiser.
The Friedman campaign predictably loved it, but he hasn't heard from other candidates, Watson said. "I've got a few more tricks up my sleeve in the weeks ahead."
Might that mean a sequel to his low-budget doll featurette?
"I suppose it's a possibility," he said. But candidates Bell and Strayhorn have returned to Shannon Shiffer's playroom, "and I'd have to ask her if she wants to part with them again."