Former Dallas TV reporter and current Southwest Airlines media spokesman Brad Hawkins arrested on alleged public lewdness (updated at 9:48 p.m.)
04/21/10 04:05 PM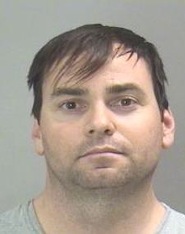 Brad Hawkins in last WFAA8 photo and in police mugshot.
By ED BARK
Stories of this type are never pleasant to report. Let's make that clear at the top.
But television news personalities are public figures, and former WFAA8 anchor/reporter Brad Hawkins has remained in the public eye as the principal media spokesman for Dallas-based Southwest Airlines.
He was arrested Monday night, April 19th, on a charge of public lewdness in a Dallas park after allegedly making sexual advances toward an undercover Dallas police officer. The arrest and charge were confirmed Wednesday by Senior Dallas Police Cpl. Janice Crowther, who serves as the department's media spokesperson, and Dallas County Sheriff's Department director of public information Kim Leach, previously an executive news producer at Fort Worth-based NBC5.
Hawkins, who
left WFAA8 in December 2008
after nine years at the station, was released late Tuesday morning after posting $1,000 bond, records show. A message left Wednesday on his cell phone asking for comment has not been returned. Public lewdness is a Class A misdemeanor offense punishable by a fine not to exceed $4,000, confinement in jail not to exceed one year, or both.
Hawkins' attorney,
Peter Schulte
, a former McKinney Police Department officer, called at 9:40 p.m. Wednesday to issue this statement: "We're going to fight the charges and we ask that everyone holds their opinion until all the facts are known. In this country, everyone is innocent until proven guilty."
Schulte also is a former prosecutor for the Dallas County Criminal District Attorney's Office. He went into private practice in 2007.
The police report says that Hawkins, 37, was followed by the undercover officer while carrying his bicycle to the top of the Flagpole Hill area of Olive Shapiro Park.
The two engaged in a short conversation during which Hawkins "spoke of sexual matters" before shaking the undercover officer's hand, according to the report. "During the handshake, Hawkins pulled the officer's hand toward his erect penis and thrust his hips, causing his clothed, erect penis to touch the officer's hand," the report says. (Further, more explicit details of the alleged encounter are being withheld at the writer's discretion.)
Hawkins wasn't arrested immediately because the officer didn't want to compromise his cover. Instead officers in marked and unmarked squad cars followed Hawkins on his bicycle before he was arrested outside his house, the report says.
The report alleges that Hawkins "knowingly engaged in sexual contact in a public place" and that "there were several persons in the park at the time. Hawkins was reckless as to whether another person present would be offended or alarmed by his act of sexual contact."
Hawkins, booked under the name Charles Bradley Hawkins, last worked for WFAA8 as a co-anchor of the station's early morning
Daybreak
program. He had been a member of the ABC station's news team since January 2000.
"I feel I'm jumping from one of local TV's greatest news dynasties to one of the most emulated and respected companies in the world," Hawkins told unclebarky.com in November 2008 on his decision to join Southwest Airlines. "I didn't see this opportunity coming again any time soon. And I'm at a crossroads in terms of opening myself to new challenges and new skills."
WFAA8 president and general manager Mike Devlin said on Wednesday he would have no comment on Hawkins.
"He doesn't work here anymore," Devlin said. "Not an employee. If he were, our response would be much different."
Devlin also said that WFAA8 would "probably not" report on Hawkins' arrest and the charges made against him.