This just in: A night in the lives of D-FW's 10 p.m. newscasts (Mon., Nov. 6)
11/07/06 02:44 PM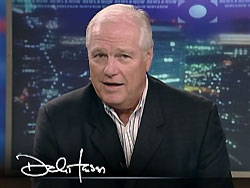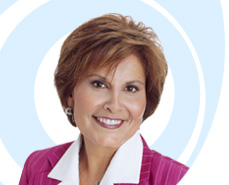 Belo8's Dale Hansen and Gloria Campos: Both had their moments on the 3rd night of the November "sweeps."
By ED BARK
An election eve presidential visit to Dallas doesn't necessarily have to lead the 10 p.m. newscast. But you really should have something substantial if it doesn't. Here's who did what Monday on Night 3 of the November "sweeps."
CBS11 and Fox4 made President Bush's stop at Reunion Arena their top story. Each station had reporters on the scene to cover both the campaign event and a protest rally that attracted roughly 200 to 300 people. CBS11 reporter Jack Fink noted that the Republican Party's local get-out-the-vote phone banks were shut down during the rally.
Dallas County GOP chairman Kenn George agreed that this might seem counterproductive. Still, "You can see the crowd," he enthused. "They're gonna get infectious."
He probably didn't mean to say it quite that way.
Belo8 instead led with a story on a
Dateline NBC
sting operation that triggered the suicide of former Kaufman County district attorney Louis "Bill" Conradt Jr. He shot himself in his home while police tried to serve an arrest warrant for soliciting sex with a minor. Conradt had responded to an online solicitation from a decoy posing as a 13-year-old. It's all part of the NBC program's "To Catch a Predator" segments, in which offenders are lured to a hidden camera-equipped "bait house" to be confronted by correspondent Chris Hansen.
Some residents of Murphy, where the bait house was set up, were angered that their neighborhood had been used as a magnet for child molesters during the course of a four-day sting. Channel 8 reporter
Dan Ronan
asked Murphy Mayor Brett Baldwin whether they deserved an apology. Yes, he thought they did.
This is a story of no small import, and it's defensible to lead with it. Would Belo8 have been as aggressive, though, had an ABC news program such as
20/20
been been behind the bait house?
NBC5 not surprisingly downplayed the
Dateline NBC
aspect in its considerably less detailed report. The station's top story, accompanied by chilling
Bride of Chucky
-esque music, concerned a North Texas mother who mistakenly received another woman's prescription at a pharmacy. She noticed the mistake in time, so no one was harmed. That didn't stop NBC5 from stationing reporter
Susan Risdon
live outside the offending pharmacy chain.
Anchor
Mike Snyder
noted that the aggrieved woman had contacted the station through its website. He encouraged other viewers to do likewise if they have a news story to tell. Be forewarned. NBC5's next top-of-the-newscast shocker could be about a consumer who almost bit into a health-threatening brown spot on a banana.
As for President Bush, NBC5 waited until 10:09 p.m. to note his visit in a brief reader by anchor
Jane McGarry
. The accompanying protest was dismissed in less than five seconds. NBC5 gave far more time to reporter
Kristi Nelson's
hard-hitting report on area residents who put up their Christmas lights early.
Belo8 got around to Bush about four minutes earlier, after reporter
Rebecca Lopez's
story on a middle-aged woman who had been "living in filth" and hadn't been fed in days. The woman's caregiver, her daughter, said she was depressed and unable to work. As proof, the daughter talked to Lopez while laying in bed and poking her head out from the covers. It's a sorry situation, all right. But is it really a bigger story than a presidential visit? And lest we forget, this
is
the country's sixth-largest TV market, not Smallville..
Meanwhile, Belo8 anchor
Gloria Campos
seemed over-caffeinated again. She yelled out this tease to viewers: "Women, are you looking to reignite your love life?! Men have Viagra. What about us!"
The subsequent "story," which ran for 20 seconds or so, said that 43 percent of women report "some type of libido issue." But alas, the only FDA-approved product available to them is something called Estratest.
CBS11 hit the libido issue harder via reporter
Shannon Hori's
extended piece on a "passion patch" called Scentuelle. You put it on your wrist for that lovin' feelin'. Or as user Jennifer Parks put it, "I felt just generally really good. And just more sexy."
Fox4 has become positively sedate in comparison. Anchors
Clarice Tinsley
and
Baron James
present the news cooly and calmly, as do most of the station's reporters. Oh what a relief it is.
Leave it to Dallas Mavericks owner Mark Cuban, though, to lather things up. He's in a spat with former Mavs coach Don Nelson, who claims that Cuban owes him several million dollars in back pay. Fox4 had the only interview with Cuban, who was sweating like a dog as part of his pre-game ritual of riding an exercise bike. What he said made sense only on Planet Cuban: "Nellie's just a drama queen. You know, he's got a crazy drama. If he's willing to put his money on the table, I'll sit down and go drink for drink, and have a great time."
Belo8 sports anchor
Dale Hansen
continues to twit both Cuban and Dallas Cowboys coach Bill Parcells. So he enjoyed Nelson's Monday night win over the Mavericks as the new coach of the Golden State Warriors.
"Don Nelson's happy, Mark Cuban's not. And I'm happy now," said Hansen.
And as for Parcells' penalty-prone Cowboys, "The Teflon coach is finally getting some of the blame for this," Hansen said.
We'll close with a bit of Christmas poetry from Belo8 reporter
Brad Hawkins
, who said that holiday shopping at some major malls will be safer because of police "skywatch towers" in parking lots.
"Officers up above roof tops, much higher than a sleigh," he told viewers. "On four wheels and two, on horseback and a few undercover, too."
Three newscast nights out of the way, 17 more still in play.