Daybreak mainstay Ron Corning will be vacating WFAA8 in pursuit of the great wide open
03/11/19 10:09 AM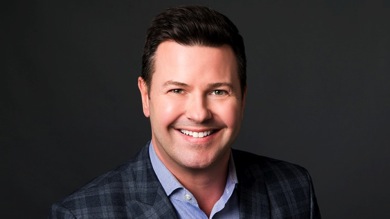 By ED BARK
@unclebarkycom on Twitter
Dallas-based WFAA8 is losing a prime-time player, even though his primary post for the past eight years has been the early morning shift.
Daybreak
mainstay Ron Corning has decided to leave the station, with his next destination still very much up in the air. His last day at WFAA8 is yet to be determined, but "we'll be posting a morning anchor position shortly," executive news director Carolyn Mungo said in a Monday morning memo to staffers obtained by unclebarky.com.
Corning, in a subsequent telephone interview, said that WFAA8 had offered him a new contract after he auditioned among other in-house and outside candidates for a 10 p.m. co-anchor position that eventually went to Chris Lawrence, who was
announced in November
as John McCaa's successor.
But during that time, Corning said he connected with an agent team that presented him with a range of other career possibilities outside of WFAA8.
"You get to that point where these things are coming together all at once, and you have to decide whether in time one of these possibilities will come to fruition," Corning said. "So I decided to take a leap of faith and give myself the benefit of time because I do have other goals I want to achieve and other experiences I want to have . . . Call me in a year and I'll tell you if I've made a mistake."
Corning, 47, said that age is "always a concern in this media landscape where (stations and networks) might turn to someone who is younger and less expensive." But he said his new agents told him that "you're in kind of a sweet spot (age-wise), and it's now or never. Age is only a number and my skill set is also transferable to other businesses and opportunities. But I'm pretty hopeful at that it's all going to be good (in the media environment)."
In her memo, Mungo told staffers that Corning "will be departing WFAA to pursue some exciting new opportunities." She praised his performance at WFAA8 as "outstanding" both on the air and in the community, where "he has emceed or appeared at more than 200 charitable events" during his time at the station. She wished Corning "continued success and happiness."
Corning
joined WFAA8 in April 2011
, replacing Chris Flanagan as
Daybreak
's co-anchor opposite incumbent Cynthia Izaguirre, who's now co-anchoring the station's 10 p.m. newscasts.
A year later, after a heavy promotional campaign touting Corning's arrival,
Daybreak
was the only early morning program to show year-to-year audience gains in the May 2012 ratings "sweeps." Among 25-to-54-year-olds (main advertiser target audience for news programming), WFAA8 and NBC5 tied for second place, with Fox4's
Good Day
barely holding onto the top spot after losing 23,316 viewers from the previous May while WFAA8 gained 10,126.
But in the February 2019 sweeps, Fox4 ranked a dominant No. 1 in both the total viewers and 25-to-54-year-old measurements. Among 25-to-54-year-olds, the station drew more than twice as many viewers as the runner-up
Daybreak
. The only upside for WFAA8 was a
slight increase in viewers from February 2017
while NBC5 crashed and burned in this key demographic to finish third.
In recent months,
Daybreak
has become much more of an ensemble act than its early morning competitors. In addition to Corning and co-anchor Kara Sewell, the show has a meteorologist, traffic anchor, social media anchor and health/fitness anchor. All are prominently featured, which means appreciably less air time for Corning than when he first arrived at WFAA8.
Meanwhile, Fox4's front-running
Good Day
, which remarkably hasn't lost a single weekday in the 6 a.m. hour since March 30th of last year, rolls along with a show that virtually reeks of stability. Led by venerable co-anchor Tim Ryan, the show's core foursome has been together longer than Corning's tenure at WFAA8. The kid amongst them, co-anchor Lauren Przybyl, joined
Good Day
in the summer of 2009. In a nutshell, it's increasingly a case of clutter at
Daybreak
versus continuity at
Good Day
.
Corning's departure will leave veteran meteorologist Greg Fields as the longest standing member of the
Daybreak
team. The four younger women sharing the show with them have all been with
Daybreak
for less than two years.
Email comments or questions to:
unclebarky@verizon.net