This just in: a night in the lives of D-FW's late night newscasts (Wed., Feb. 15)
02/16/12 02:28 PM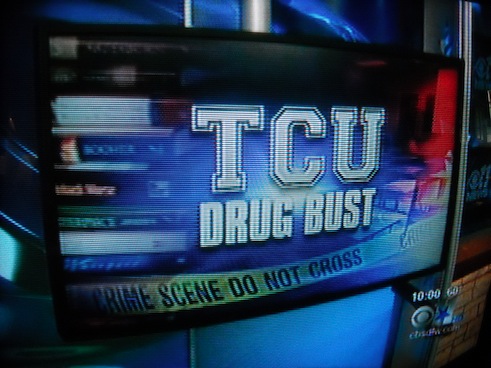 CBS11 had a nice logo, but flunked a key drug test. Photo: Ed Bark
By ED BARK
You safely could have bet your house, your farm or your luxury high-rise condo that Fox4, NBC5, WFAA8 and CBS11 all would lead their Wednesday late nighters with "team coverage" of that day's TCU student drug dealer scandal.
And they all of course did. In a mid-morning test of preparedness, though, only CBS11 stayed with regular programming -- in this case
Let's Make A Deal
-- rather than go live to TCU's stunning news conference. That's a big fall-down-on-the job deal for a station whose principal offices are in Fort Worth, likewise the home of TCU.
It doesn't really matter how or why it happened. What viewers see on home screens is the ultimate litmus test. And in this case, CBS11 viewers saw
Deal
host Wayne Brady and contestants instead of TCU chancellor Victor J. Boschini, Jr. and other school officials.
For the record, though, CBS11 spokeswoman Lori Conrad said Thursday that the station had a photographer at the TCU news conference, "but we did not carry it live due to a logistical issue with our live truck."
CBS11's 10 p.m. news coverage of TCU's very bad day ended up being notably briefer than that of its rivals. The station didn't air any footage from the university's announcement. Nor did CBS11 have the day's other signature image -- accused star TCU linebacker Tanner Brock covering his face with his shirt as he was escorted from a Mansfield jail after posting bond.
CBS11 reporters
Arezow Doost
and
Jason Allen
did the best they could under the circumstances. Doost had tape of a TCU football player who told her, "We know what we're supposed to do, so . . ."
"What's that? Not talk?" she asked. No response.
Allen stationed himself live outside the Mansfield jail, where his cameraman got taped nighttime footage of other shielded students running from the media after being booked. He also reported that police earlier had "mistakenly sent out the name and picture" of a student who was not among the 17 arrested.
NBC5, which said it was first to report the TCU drug bust, had the only clear shot of Brock before he covered up inside the Mansfield jail. Veteran reporters
Randy McIlwain
and
Scott Gordon
were the station's principal point men. During McIlwain's coverage, two identified TCU students talked on camera about how easy it was to score marijuana on campus.
Fox4 had the most coverage, devoting the first 18 minutes of its one-hour 9 p.m. newscast (including one brief commercial break) to the TCU mess.
Reporters
Natalie Solis
and
Brandon Todd
were deployed live before co-anchor
Steve Eagar
traced Facebook connections linking some of the accused students.
Fox4's
Clarice Tinsley
, subbing for regular anchor
Heather Hays
, also contributed another of her extraneous "Your Turn" segments in which viewers are shown selected comments from the station's Facebook page.
Eagar said the station wanted to do more. But chancellor Boschini turned down Fox4's request to be interviewed live in-studio. And TCU student government leaders who agreed to appear were then dissuaded by school officials who "shut that down" in Eagar's words.
WFAA8 had reporters
Marcus Moore
and
David Schechter
on the case. Schechter's report suggested that TCU officials may know more than they're letting on. But none of the four stations had any smoking guns Wednesday.
Sports anchor
Dale Hansen
later went "Unplugged" on the scandal, but only briefly.
"I'm trying to figure out what has happened to 'innocent before proven guilty,' " Hansen told WFAA8 viewers after saying he'd seen every episode of
Law & Order
three times. People in general are "quick to condemn the athlete that sells the drug," he added, while applauding those who come out of rehab and are not kicked off their teams.
"I think it's just the tip of the iceberg," WFAA8 co-anchor
Gloria Campos
opined. Hansen agreed with her, but that's as far as it went Wednesday night.
But here's something to chew on perhaps. In his official statement, TCU football coach Gary Patterson said verbatim, "As I heard the news this morning, I was first shocked, then hurt and now I'm mad. Under my watch, drugs and drug use by TCU's student athletes will not be tolerated by me or any member of my coaching staff. Period."
Emulating former president Bill Clinton during the early stages of his affair with Monica Lewinsky, Patterson seemed to be studiously using the present tense to absolve himself.
But what of the past -- and the surprise team-wide drug test that allegedly was conducted on Feb. 1st? The one that Brock and another accused teammate made reference to in conversations with an undercover police informant. The one they said would be flunked by an overwhelming majority of their teammates?
In that context, what Patterson didn't say in his statement was that "under my watch, drugs and drug use by TCU's student athletes have NEVER been tolerated or known of by me or any member of my coaching staff. Period."
We'll see how it all plays out, with CBS11 having some catching up to do after Wednesday's mid-morning goof-up.