Intended first impression of new CBS11 news anchor Kaley O'Kelley: She rocks
01/19/15 10:24 AM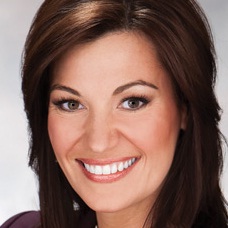 By ED BARK
@unclebarkycom on Twitter
New rule: There are absolutely none anymore when it comes to introducing new anchors to the D-FW market.
CBS11's decidedly different promo for
Kaley O'Kelley
, in tandem with CBS Radio-owned
KJKK radio
(103.3 Jack FM), in truth could be subtitled "Desperately Seeking 25-to-54-Year-Old Viewers."
CBS11 is woefully deficient in this key news demographic. And news director Mike Garber, who assumed that position in July, has made no secret of his plans to rectify that. He clearly has the backing of CBS corporate, which very much wants that mission accomplished.
O'Kelley was scheduled to arrive at CBS11 on Monday, Jan. 19th before joining incumbent news anchor Doug Dunbar on the station's 6 and 10 p.m. newscasts later this month. As previously posted, she's coming from Phoenix's KTVK-TV, where she'd been a morning show personality. Veteran Karen Borta has been sent to the early mornings after nearly two decades on the P.M. shift.
The newly unveiled 30-second CBS11/Jack FM spot positions O'Kelley as a music-loving on-the-go girl who's "smart, friendly and a big Jack FM fan." She's behind the wheel sequentially grooving on The Who's "Who Are You?", the Fine Young Cannibals' "She Drives Me Crazy" and, finally, Jet's "Are You Gonna Be My Girl?" O'Kelley laughs it up when hearing that question-in-a-song. Only then is she shown grinning along with Dunbar at the CBS11 news desk.
The spot ends with O'Kelley drum-beating her steering wheel.
There's inherently nothing wrong with this, even if that dwindling tribe known as "traditionalists" might have renewed visions of a full-blown news apocalypse. Before being sold to Gannett by Dallas-based Belo Corp., WFAA8 effectively introduced early morning co-anchor Ron Corning via a series of comedy spots before eventually over-doing it. But A.M. newscasts are supposed to be more fun and personality-driven according to latter day TV news play books. CBS11 in effect is giving something of an opposite impression with this first O'Kelly promo. Welcome to the party at 6 and 10 p.m., the station is saying. Meanwhile, Borta is being positioned far more conventionally as a comfy ol' trusty Texas gal now riding the early morn range.
Of course it's only one promo. And CBS11's re-tooled 6 and 10 p.m. newscasts, now also
without longtime sports anchor Babe Laufenberg
, are unlikely to be introduced any time soon with R.E.M.'s "Shiny Happy People."
Still, this is another telling example of the pendulum swinging. CBS11 ran last across the board in the November "sweeps" among 25-to-54-year-olds, with the 10 p.m. newscast its biggest loss leader. News director Garber wasn't brought in to do nothing about that. So get ready to rock the status quo, with older viewers mostly beside the point and younger ones very much encouraged to take the wheel.
Here's the scene-setting Kaley O'Kelley promo
Email comments or questions to:
unclebarky@verizon.net