Dallas-shot Good Guys series getting first promotional push on Fox
04/07/10 01:23 PM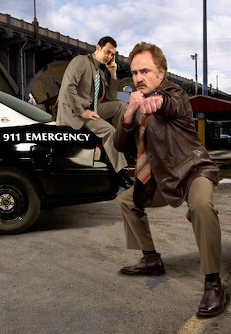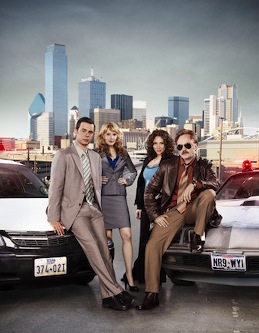 Bradley Whitford strikes a pose while Colin Hanks give him the ho-hum in new stills from Fox's The Good Guys (formerly Code 58). It's being shot in the Dallas area and premieres on May 19th. Fox photos
By ED BARK
Fox is starting to roll out promotional photos and video teases for its new spring-summer cop series
The Good Guys
, scheduled to premiere on Wednesday, May 19th after
American Idol
.
We've already had two extensive looks at the show (previously titled
Code 58
), which is being filmed entirely in the Dallas area with production offices at Fair Park. You can find them
here
on unclebarky.com and
here
on my home away from home, locatetv.com.
An early promotional clip for
The Good Guys
, starring Bradley Whitford (
The West Wing
and Colin Hanks (
Mad Men, Roswell
) aired during Tuesday night's
American Idol
performance show. It's not yet available for embedding or linking, but makes the show look quite promising.
"Meet the new brand of law & disorder," the promo says in big bold print before Whitford's character, a burned out, throwback Dallas cop named Dan Stark, gets the drop on a bad guy.
"That's a toy," he tells Stark.
"It's not a toy. It's an orange gun!" Stark yells back at him.
Hanks plays Stark's younger, under-achieving partner, Jack Bailey. Or as a pitchman puts it, "Whitford. Hanks. Mustache."
Nice. Here are a couple of frame grabs from the TV promo. One is the show's official logo, with "Dallas Police Department" also prominently displayed. The other shows Hanks and Whitford in downtown Dallas surroundings that probably aren't included in the Grayline tour. And yes, there
still is one
.