Local Nielsen ratings snapshot (Tues., July 15, All-Star baseball edition)
07/16/08 09:20 AM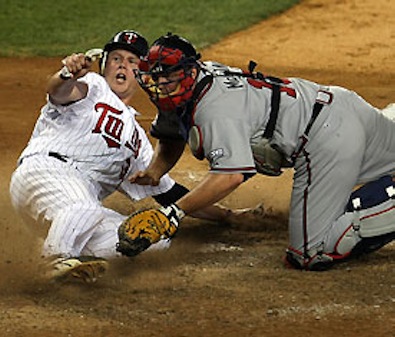 Justin Moreau scores winning run at 12:37 a.m. Wednesday. Getty
By ED BARK
Going, going, going and finally gone at 12:37 a.m. Wednesday, baseball's 79th annual All-Star game still managed to outscore all competing programming during its four hours and 50 minutes on Fox.
That's not even counting the elongated pre-game show. Pocket calculator technology at unclebarky.com central says that the game itself, which started at 7:47 p.m. Tuesday, averaged 199,719 D-FW homes overall from opening pitch to 15th inning slide across home plate.
Attendance peaked from 8:45 to 9 p.m., with 263,045 homes tuned in. And the game remained on in 126,652 homes when Rangers shortstop Michael Young drove in the winning run with a sacrifice fly.
Let's look at some of the night's other peak All-Star game audiences among viewers of varying ages, beginning with advertiser-craved 18-to-49-year-olds:
18-to-49-year-old men
-- 105,190 from 9 to 9:15 p.m.
18-to-49-year-old women
-- 53,428 from 9 to 9:15 p.m.
55 years and up
-- 161,600 from 8:15 to 8:30 p.m., and 8:45 to 9 p.m.
12-to-17-year-olds
-- 48,140 from 10 to 10:15 p.m.
The All-Star game in fact ran fourth overall in prime-time among 18-to-49-year-old women, for whom NBC's
America's Got Talent
(80,905 viewers) and ABC's
PrimeTime: Family Secrets
(74,799 viewers) were the top draws.
Us hairy beasts of the same age group knew better, making the All-Star game our runaway first choice throughout the night and into Wednesday's opening wee hour.
There was a brief lapse, though, between 7 and 8 p.m., when another edition of ABC's fall down/go boom
Wipeout
lured 67,353 men in the 18-to-49 demo opposite what was mostly the All-Star pre-game buildup (67,118 viewers).
Fox also squeezed in at least 11 promos for its new fall series
Fringe
, although I may have missed one or two. Just before the midnight hour, play-by-play dude Joe Buck dutifully told viewers, "They have built an all-new world of intrigue and adventure that will blow your mind."
He wasn't talking about the game, but of
Fringe
, helmed by
Lost
creator J. J. Abrams. By the time of its Sept. 9th premiere, you're likely to have seen a gazillion or two teases for it.
In the three-way 10 p.m. local news derby, WFAA8 took the gold with 194,848 total homes and also won among 25-to-54-year-olds, the main advertiser target audience for news programming.
NBC5 rose up at 6 a.m. to win in both ratings measurements, with the usually potent WFAA8 barely holding off longtime pipsqueak CBS11 to take the bronzes.
WFAA8 then controlled the 5 and 6 p.m. news competitions, running its streak at the later hour to 17 straight weekdays.