"Nothin' but chaos going on here inside the newsroom"
04/11/09 11:29 AM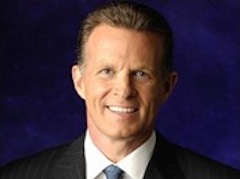 CBS11 anchor Doug DunbarBy ED BARK
CBS11's newsroom reverted to the stone age at about 2:30 p.m. Thursday when all of the computers went dead while wildfires were sweeping through Montague County.
"All of a sudden we had nothin'," anchor Doug Dunbar says in a
video blog
on the D-FW-based station's web site.
Three old-school typewriters were dug up and brought to the newsroom until the computers returned to life in time for the 6 p.m. newscast. Dunbar says that he and co-anchor Tracy Kornet did a one-hour 4 p.m. newscast that was "completely ad lib."
Technology-wise, "Thursday was about as bad as it can get," Dunbar says. He also praises staffers for putting together a newscast that looked none the worse for wear despite all the behind-the-scenes "chaos" on what turned out to be a big breaking news day.