Indy bound: NBC5's Todd D. Wallace goes smaller to get bigger job.
07/30/07 05:37 PM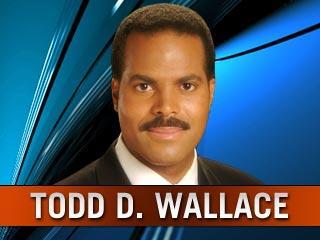 By ED BARK
Todd D. Wallace, who's been anchoring NBC5's weekend
Today
program, will be joining ABC station WRTV-TV in Indianapolis to be part of a new featured anchor team.
Wallace arrived at NBC5 in June 2003 after starting his TV career in 1992 at a Jackson, Miss. TV station.
In leaving D-FW, he's downsizing from the No. 6 (soon to be No. 5) market to No. 25. But he'll be much
more visible in Indy
with new anchoring partner Trisha Shepherd from WHO-TV in Des Moines. They'll start in September as replacements for incumbent anchors Ray Cortopassi and Martha Weaver, who didn't make the ratings meter tingle.
Riotous station general manager Don Lundy already is calling his new team "T'nT" on his official blog.