Przybyl joins Good Day on otherwise blue Monday for Cowboys fans
09/21/09 02:29 PM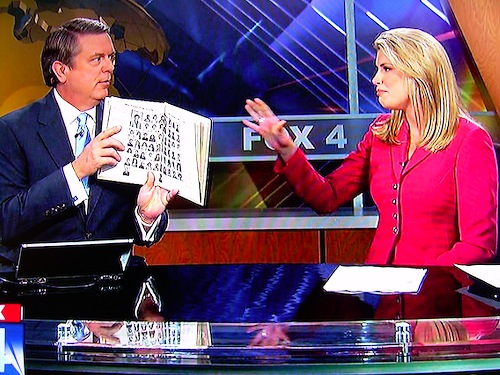 Co-anchor Tim Ryan "surprises" new deskmate with 5th grade yearbook pictures during Monday's Good Day on Fox4. Photos: Ed Bark
By ED BARK
Pretty in dark pink, vowel-deprived Lauren "What's a Przybyl?" Przybyl (PRIZ-BULL) made her
Good Day
debut Monday after a nearly seven-month gap in which various in-house staffers sat beside incumbent Tim Ryan.
Przybyl dawned on the same day the 2009-10 TV season officially starts lighting up prime-time with a freshman class and new episodes of returning favorites.
Fox4, as WFAA8 did in January 2008 with Cynthia Izaguirre, wasted no time in trumpeting the newcomer's previous local connections. In the 6 a.m. hour, Ryan brought forth her 5th grade yearbook while Przybyl feigned surprise at the pre-plotted trick played on her.
"I'm gonna get you guys for this. Am I turning red right now?" she said after Ryan displayed a picture of Przybyl as a dark-haired 'tween at Colleyville's O.C. Taylor Elementary.
Przybyl earlier noted that she was born in Arlington and went to Grapevine High School.
Ryan primed that pump by telling her, "It's a homecoming for you."
The Baylor University grad arrived from Boston's WHDH-TV in Boston, where she spent the past five years anchoring and reporting. Przybyl also had a formative stint with TXCN, the now stripped-down cable news network owned by Dallas-based Belo Corp., which also runs rival WFAA8. Not surprisingly, that didn't work its way into Monday's conversations with Ryan and weatherman Evan Andrews.
"You brighten our forecast," Andrews said.
"Aw, that's sweet," Przybyl rejoined.
She got through her first day OK, absorbing Ryan's occasional soft jabs while trying to steel herself for what will be a very long and demanding four-hour daily shift.
"If I start falling asleep, you guys just start nudging me on either side, OK?" she said while sandwiched between Ryan and Andrews.
"You'll get used to Tim eventually," sports anchor Mike Doocy later assured her. "Although some never do."
Make no mistake. Ryan is the show's ringmaster, a survivor with ingrained stains on his
Good Day
coffee cup. He's seen 'em come and go -- and he's still not going anywhere.
When not welcoming Przybyl,
Good Day
spent a good part of Monday pounding away at complaints about the "Party Pass" situation at Cowboys Stadium. Reporter Saul Garza repeatedly termed it a "disaster" that left many disgruntled fans on the outside looking in during Sunday night's christening game with the Giants, who won on a last-second field goal.
There also were repeated visits to Sunday afternoon's Plano balloon festival, where the show's Good Daze Band performed. Footage of Ryan writhing to "Twist and Shout" drew raves from his new co-anchor. In time she'll have to learn to throw a few strategic jabs.
Przybyl replaces Megan Henderson, who left
Good Day
in late February and coincidentally is scheduled to show up Monday evening on The 33's inaugural 5:30 p.m. local newscast. Henderson, as previously posted on this page, will be doing entertainment dispatches from Los Angeles, where she's now co-anchoring early morning shows for KTLA-TV. Both stations are owned by Tribune Broadcasting.
During her Monday debut, Przybyl came up completely empty only when tipping her virginal
Good Day
mug. So far so good, with viewers now getting a chance to see if she'll percolate.