Dropping anchor: Dale Hansen's larger-than-life diet makes him local TV's biggest loser
02/26/08 10:01 PM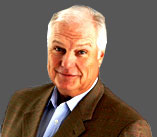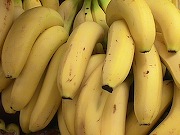 By ED BARK
WFAA8's
INCREDIBLE SHRINKing
man says he's dropped 47 pounds since New Year's Day.
Which means that sports anchor Dale Hansen is only about seven-eighths the man he used to be.
Ah, but we kid. And as the February sweeps ratings period enters its final day, there's no more danger that a rival station -- or WFAA for that matter -- will use his regimen as fodder for another of those miracle diet stories. So dish, Dale. What's gotten into you -- or out of you? And please don't mean it when you say on the air that you're going to gorge yourself on Saturday and then quickly pack it all back on.
"I did have all my clothes tailored down," Hansen says in an email. "So the bottom line is if I do gain it back it's gonna cost me a fortune. And even I'm too cheap to do that. But no promises."
His regimen, scheduled to continue through at least Friday, has him strictly abiding by the following:
"I do two Slim-Fasts in the morning with a banana in the blender.
"A vitamin pill.
"One or two V-8s during the day.
"And two Slim-Fasts with a banana or berries in the blender at night.
"And that's
ALL
I've had since Jan. 1."
Hansen says he "was tired in the beginning but that soon passed." And now "I'm never hungry."
He's hoping to keep the faith, but knows what a backslider he can be.
"Making the changes necessary to keep it off might be a little harder" than dropping all that poundage," Hansen says. "But I think I have the motivation and the plan to do it. At least I hope so. . . A nutritionist once told me I could lose weight on a doughnut diet. I just wouldn't be able to eat very many doughnuts."
Hansen says he's had many inquiries about his new strapping buck look. Now it's time to keep Lumpy Rutherford on the outside looking in.
"Somebody will probably follow my diet and die and then sue my ass," he jokes.
On the plus side, there's not as much to sue anymore.