Wolf Delkus and a disheveled Dale
10/23/12 06:39 AM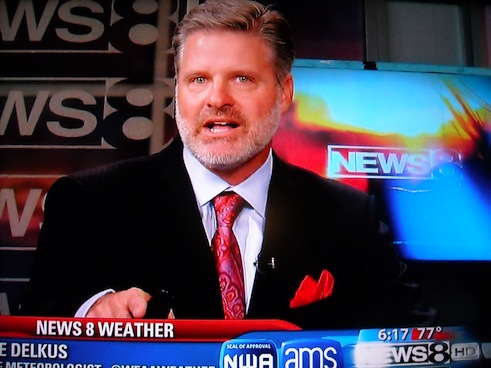 WFAA8's Pete Delkus showed up as a bearded laddie on Monday.
Photos; Ed Bark
By ED BARK
@unclebarkycom
As you may have
read in these spaces
, some form of local comedy news is coming later this fall when CW33 reboots its 9 p.m. presentation.
But as also previously noted, laugh-in elements have long been firmly in the mix at WFAA8.
The Pete 'n' Dale show, starring weathercaster Pete Delkus and sports anchor Dale Hansen, resumed in earnest Monday on the 6 p.m. edition. Fresh from his latest Montana vacation, Delkus showed up in a notably gray beard after news anchor John McCaa told viewers, "You will be interested in seeing what's coming up in weather. Not Grizzly Adams. Not Jeremiah Johnson."
Co-anchor Shelly Slater joined in, dubbing Delkus "The Most Interesting Man in the World" when he emerged as a bearded laddie.
Delkus, who pledged to shave in time for Monday's 10 p.m. edition, said his wife had told him he should show up on the air with facial hair as a way to up the comedy ante during his almost daily exchanges with Hansen.
"There is a Dale element to this," he promised before viewers were treated to a shot of Hansen in which he appeared to be showing the after-effects of a bender. (See below.)
Hansen later told Delkus, "There's a man outside on the Plaza out there with a pumpkin on his head who looks better than you."
And he closed the newscast in Delkus' absence by telling McCaa and Slater, "He kind of looked like a homeless person with a tie on."
Hansen certainly knows how to tie one on -- as he's noted from time to time. So we'll leave you with this enduring image of low comedy on the part of a station that otherwise regularly has its nose in the air in dismissing rival D-FW stations as hopeless inferiors when it comes to "serious" news.
unclebarky@verizon.net