CW33 "sexpert" Shana Franklin caught in love nest with -- four dogs
09/07/10 05:18 PM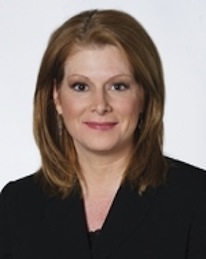 By ED BARK
The above headline literally is true -- and cheaply scandalous. It's also in sync with the way CW33 would tease something like this.
Veteran CW33 reporter Shana Franklin, who self-describes herself as the station's "sexpert," has a new video bio on the Dallas-based station's always
oddly intriguing website
.
Filmed by her husband, Franklin is seen lounging in bed with the couple's four dogs, ranging in sizes from big to tiny and names from Turtle to Velcro. A skull-and-crossbones pillow is nearby.
She bills this as a "sneak peek into the real me" before introducing the couple's four canine "children" and cueing viewers to her brand of "sex and relationships" reporting.
"For all things more intimate, you're just going to have to get on to 'The 33,' " Franklin says, later warning, "So come find us -- or we will find you."
Franklin is nothing if not dogged on her still relatively new beat. A very wide array of her sex and relationship stories is readily available on
her CW33 page
. They lately range from "The Science Behind the Booty Call" to "DIY Sexual Pleasure" to "No Longer Just For Strippers: DFW Kids Could Be Taking to the Pole."
Hey, it's a living. And let's face it. Franklin's latter day brand of expertise might have been fatal to a resume tape just a few years or even a few months ago. But at this juncture in local TV news, she may well be ahead of the curve. Or if you prefer, curves. As in another of her specialty stories titled "The Sex Diet: Getting in Shape to Look Better Naked."
Here's Franklin's self-produced, mini "video bio." In some ways it's just purr-fect, even without any felines sharing her bed.