NBC5 finalizes deal to leave only home it's ever known (but will stay in Fort Worth)
06/11/12 11:42 AM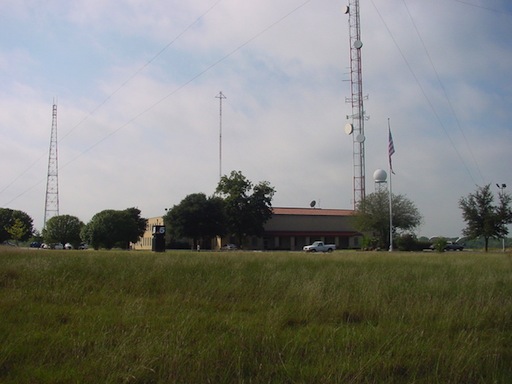 NBC5's age-old current home at 3900 Barnett St. in Fort Worth.
By ED BARK
@unclebarkycom
In a move akin to the Ewings leaving Southfork Ranch, NBC5/KXAS-TV at last has reached an agreement to leave the only home it's ever known and relocate to the
CentrePort Business Park
.
The new "state-of-the-art media facility," to be located just south of Dallas-Fort Worth International Airport, is slated to be ready for occupancy sometime in late 2013, with construction beginning at the end of this month. The 75,000 square foot building also will house KXTX-TV, the viewing area's Telemundo affiliate, and "several other smaller businesses" associated with NBC5's parent company, NBC Universal. Its official address will be 4805 Amon Carter Blvd. in Fort Worth.
KXAS originally signed on as WBAP-TV on Sept. 27, 1948, with offices and studios at 3900 Barnett St. just off the I-30 freeway in east Fort Worth. The station has operated out of that building ever since that day. Carter, then publisher of the
Fort Worth Star-Telegram
, originally dedicated the facility that "expanded his media business into the exciting new technology of TV," in the words of a station publicity release.
"As the North Texas area grew, we added a facility in Dallas," NBC5 president and general manager Tom Ehlmann said in a statement. "Now we will combine operations into one first-class operation to better serve our viewers and advertisers via television, the internet, mobile and still developing technologies." The lead architectural firm for the new building is Corgan Associates, Inc.
As part of the agreement that paved the way to CentrePort, NBC5 will give its current 66,000 square foot building and 26-acre site to the city of Fort Worth.
CentrePort already is home to more than 70 companies, including American Airlines, AT&T and Mercedes-Benz. The property also includes three hotels, 2,000 apartment units, restaurants and various retail businesses.