Say it fast 10 times: New NBC5 weekend meteorologist is Lindsay Schwarzwaelder
10/31/12 09:00 AM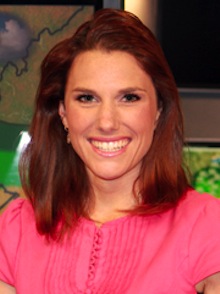 By ED BARK
@unclebarkycom
NBC5 hasn't officially announced it yet, but Lindsay Schwarzwaelder has.
On her
Facebook page Tuesday
, the Lexington, KY meteorologist says she's joining the Fort Worth-based station after two years at NBC affiliate WLEX-TV.
"I want to announce that this Friday will be my last day at LEX 18," Schwarzwaelder said. "I have accepted a job at KXAS (NBC5) in Dallas." It's a big jump. Lexington is the 64th largest TV market; D-FW is No. 5.
NBC5 has had an opening for a weekend meteorologist, so that's where Schwarzwaelder initially will fit in. Asked last Thursday if anyone has been hired, the station's vice president of programming, Brian Hocker, said in an email reply, "Nothing to announce on the weekend meteorologist at this time. Work-in-progress."
Schwarzwaelder joined WLEX in November of 2010. Her first job as a meteorologist was at WIVB-TV in Buffalo. She's a Pennsylvania State University graduate.
Upon her arrival, NBC5 will have six meteorologists in place, the largest contingent at any D-FW television station. The others are David Finfrock, Rick Mitchell, Samantha Davies, Grant Johnston and Remeisha Shade. But Davies lately has been doing the
early morning traffic reports
, succeeding longtime "Gridlock Buster" Tammy Dombeck.
unclebarky@verizon.net