This just in: A night in the lives of D-FW's 10 p.m. newscasts (Tues., Feb. 6)
02/07/07 02:51 PM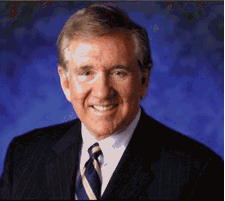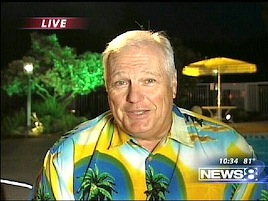 Ball's in Dale Hansen's court after Tracy Rowlett serves him.
By ED BARK
It takes two to tangle, so this isn't that. Still, CBS11 anchor
Tracy Rowlett
threw a crisp jab -- or was it a right cross --- at former Belo8 colleague
Dale Hansen
Tuesday night.
It came out of nowhere after sports anchor
Gina Miller
, subbing for
Babe Laufenberg
, finished a segment that included a piece on the Dallas Mavericks' so-called "Miracle Home" in Carrollton. Star player Dirk Nowitzki was on hand to sink his palms in concrete at the site. Eventually a lucky raffle winner will get both the home and Dirk's imprints.
Miller, who like Rowlett used to work with Hansen at Belo8, noted that someone stepped on her palm prints, requiring her to re-do them.
"Aw, bless your heart," Rowlett rejoined. "Maybe it was Dale Hansen who stepped on 'em."
"You said that, not me!" Miller quickly exclaimed.
Those who know Hansen know that he very seldom attends such functions anymore. On his Tuesday night segment, he instead contentedly reminded viewers of his old feud with former Dallas Cowboys coach Barry Switzer, who punched him not so playfully on the arm several times during a storied live interview.
Hansen uncommonly had praised Cowboys owner Jerry Jones Monday night for taking his time in finding a new coach. Now he wants him to get his ass in gear.
"I'm so tired of this process," he said of Jones' ninth prospective coach interview Tuesday. "I'm almost ready for Barry Switzer to come back. And then I realized, no, I'm not. But I want somebody! And I want somebody soon."
Maybe he'll now want a piece of Rowlett? Hey, all's fair, unfortunately, in a 10 p.m. ratings battle that began with frontrunning NBC5 exploiting weatherman
David Finfrock's
persistent cough. So maybe Hansen could say, "I went golfing yesterday and let Rowlett carry my bag. Unfortunately he only lasted two minutes, which come to think of it is par for the course for him in any activity." Ba-boom-ba.
OK, on to the news, with NBC5 and Belo8 seemingly in a fevered race to jam as many stories as possible within their 35-minute telecasts. The Peacock invariably sets the pace, ripping and reading at near-WARP speed. Excluding the weather and sports segments, NBC5 zipped through 31 stories, with the usual heavy emphasis on crime, fires, auto wrecks and silly medical alerts.
Belo8 countered with 23 stories, saving plenty of squeeze room for anchor "happy talk," in which it's lately become the uncontested league leader.
The ABC station had the night's best story, a report by veteran
Brett Shipp
on a series of questionable and outdated telephone bill charges that state legislators seem to have little interest in repealing. Principal among them is a "Tif" charge (Telecommunications Infrastructure Fund") for a now defunct state initiative. One lobbyist told Shipp that it's the easiest way to raise state revenues "without leaving fingerprints." Roughly $210 million annually is brought in by Tif, with the money now being dumped into the state's general revenue fund.
It takes work to do these kinds of stories. Over at NBC5, little legwork is expended on anything other than rushing to the nearest tragedy. Even the Peacock's featured crime story, on "Bump keys" that can be used to open just about anyone's door, was a rehash of a rival reporter's work. CBS11's
Bennett Cunningham
had an almost identical piece last Thursday. NBC5's
Scott Friedman
did give a nice presentation, though.
"Some chilling information, Scott. Thank you," anchor
Jane McGarry
said in turn. Chilling information is always welcome on NBC5.
Fox4 had an unusually flimsy newscast. After a lead story on NASA astronaut Lisa Nowak's bizarre murder plot, anchor
Clarice Tinsley
signaled a "Breaking News" segment.
"You are looking live" at a traffic accident on Northwest Hwy., she said with what turned out to be laughable urgency. The station's Chopper 4 correspondent,
Scott Wallace
, then quickly reported, "It doesn't look like anybody was hurt seriously in this accident . . . Nobody has been transported this evening to any hospitals."
In other words, this really wasn't anything worth reporting in -- all together now -- the nation's sixth-largest TV market.
Later in the newscast, Fox4's usually solid
Brandon Todd
got stuck on
American Idol
duty in Krum, where 16-year-old Baylie Brown's parents threw a watch party at their home.
"The country girl from Krum is headed to Hollywood," Todd enthused. And Baylie herself said she'd received 900 messages on myspace.com.
There's also a very polished bayliebrown.com Web site. Or at least there was until unclebarky.com linked to it Tuesday night on the
Above the Fold
page. It's now been rerouted to "Austin Lane Technologies," apparently in an effort to re-position Baylie as the wide-eyed innocent portrayed on
Idol
instead of the slickly marketed phenom who "has all the ingredients to emerge as country music's newest superstar."
The suddenly vanished site additionally described 16-year-old Baylie as "already a seasoned professional." It also included a gallery of very professional looking glamour shots and a way to "spice up your computer with one of our exclusive Baylie downloads." She also was "Entertainer of the Year" at Denison's 2004 Main Street Showcase. And her CD,
Big Trouble
, is touted as a "must for all contemporary and traditional country music fans."
But that was yesterday.
American Idol
has a way of changing things.
That said, here's the nightly violent crime story count, with the 4-night running totals in parentheses:
NBC5
-- 5 (26)
Belo8
-- 2 (9)
CBS11
-- 2 (11)
Fox4
-- 1 (11)