Mainstay Fox4 reporter Fil Alvarado retiring after 33 years in the trenches
12/15/18 09:33 AM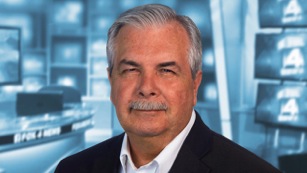 By ED BARK
@unclebarkycom on Twitter
Street reporter Fil Alvarado, whose career at Fox4 dates back to 1985, has decided to retire at age 70.
In a brief memo to his colleagues obtained by unclebarky.com, Alvarado writes, "This is not goodbye . . . not yet. But I want to let you know I will retire at the end of the year. I'll be here everyday until my last day Jan. 3. So I'll save my goodbyes and farewell wishes until then."
He concluded with, "Well then, see ya'll Monday."
Alvarado, who also has reported for the WBAP and KRLD radio stations, grew up on his grandfather's farm in the Texas Panhandle.
"If we didn't earn enough doing chores, my friends and I would go to the local newspaper office, buy a stack of papers wholesale and sell them up and down Main Street," he says in his Fox4 bio. "We'd split the profits, go to the drugstore for a milkshake and dash across the street in time to catch a movie."
In June 2016, Alvarado was among 13 honorees at the Press Club of Dallas' annual North Texas Legends event. In his acceptance speech, he noted that many people tell him they've watched him since they were kids. "At least they're still watching," he said. "I think I'm working on my third generation now."
Alvarado said that pounding the pavement day after day, night after night had not worn him down. He advised, "Pick your head up once in a while and take a look at all the people who support you."
Email comments or questions to:
unclebarky@verizon.net