NBC5's new image campaign: "You're everywhere to me"
08/05/08 07:31 AM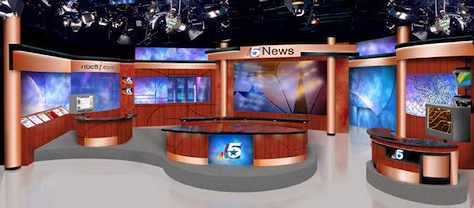 By ED BARK
NBC5 has a new sales pitch for its newscasts, and the timing obviously is optimum.
Its network's all-encompassing coverage of the Summer Olympics, which begin with Friday night's opening ceremonies from Beijing, China, will bring a wealth of eyeballs to Peacock stations around the country. So NBC5 has ramped up with a hyper-energetic "Anytime Everywhere" campaign underscoring the availability of its news content on phones and computers as well as living room screens.
A hard-driving theme song by a female vocalist -- "You're everywhere to me, and when I close my eyes, it's you I see" -- accompanies fleeting glimpses of NBC5 anchors and reporters in action. Roll call: standardbearers Mike Snyder, Jane McGarry, David Finfrock and Newy Scruggs, plus new meteorologist Jennifer Lopez, anchor/reporters Meredith Land, Brian Curtis and Kristi Nelson and reporters Grand Stinchfield and Scott Gordon.
It's all slickly cosmetic show and tell, of course. But if you take it for what it is, this full-blown, one-minute spot also is pretty effective at getting NBC5's retooled message across. At least that's my perception after multiple viewings. Your comments are welcome.