WFAA8 anchor/reporter Shon Gables facing escalating legal difficulties
06/30/11 12:13 PM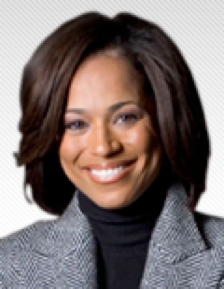 By ED BARK
Dallas County Commissioner John Wiley Price's legal problems appear to be deepening by the day, with WFAA8 and numerous other news outlets on the scent for more damaging evidence after Monday's FBI raids on his home and office. That's part of their job.
Inside Dallas-based WFAA8, anchor/reporter Shon Gables is still immersed in her own legal quagmire. And it's getting stickier, judging from recent court documents. Both Price and Gables are public figures, although you'll understandably see no reporting on her difficulties from WFAA8. You do have a right to know, though. Because if a prominent local athlete or other area celebrity were in a mess like this, WFAA8 -- and other news outlets -- would certainly see it as news.
As
previously posted in March
on unclebarky.com, a bench warrant was issued for Gables' arrest after a Detroit judge cited her for contempt of court in connection with a successful $35,000 slander judgment against her. The plaintiff in the case, Richard Klamka, is the brother of Gables' second and now ex-husband, Peter Klamka.
Detroit judge Jeanne Stempien issued the warrant after Gables failed to appear in court on Feb. 4th and March 4th to "testify under oath regarding her assets" in connection with the slander judgment. Stempien also said in a court document that "it is furthered ordered that the bench warrant issued for the Defendant's arrest shall be released when the Defendant pays to the court the sum of $2,000." It would not affect the $35,000 sum that Gables already has been ordered to pay Richard Klamka.
The bond on Gables' arrest warrant since has been increased to $25,000 by Judge Stempien after Gables and her attorneys unsuccessfully filed three motions asking that she be allowed to testify from afar -- including via telephone and video/Skype -- in order to avoid returning to Detroit and facing arrest plus additional travel expenses. All three motions, filed earlier this month, were quickly denied. Judge Stempien then ordered that her bond be upped to $25,000 in a court document dated June 24th.
WFAA8 news director Michael Valentine, has said in response to unclebarky.com that he is in "constant communication with Shon and she has kept me up to date on the issue." He has declined to comment further.
Gables joined WFAA8 in January 2010. Her duties include anchoring the station's early morning weekend news program and reporting on three weekdays. In August, Gables had her third child by her third husband, Anthony Robinson.
In the June 7th "Motion to Permit Telephone Testimony" by Gables, her attorneys said that should she appear in Michigan to testify at an evidentiary hearing, "it is almost a certainty that either Plaintiff or his brother, or both of them, will take all steps to assure that Defendant is arrested and incarcerated."
The motion also stated that "significant custody proceedings" in both the states of Texas and New York have caused Gables to incur "substantial additional attorney fees with attorneys in both cases. This makes it important for her to conserve her financial resources as much as possible to be able to pay the fees and costs incurred in those proceedings and, accordingly, she does not want to incur the airfare and hotel charges that would be incurred to testify at this Evidentiary Hearing."
But Judge Stempien rejected those arguments. She also noted that a subsequent third "Emergency Motion" filed by Gables' attorneys was denied by a Washtenaw County Circuit Court judge who said they were asking that court to "undermine one of the major tools of enforcement of judicial authority in this state."
The upshot: Gables remains in "contempt for failure to appear," with the price tag now approaching the $35,000 slander judgment already rendered against her.