Under the weather in the ratings, WFAA8 resorts to comedy forecaster Derek Holland of your Texas Rangers
02/12/12 03:22 PM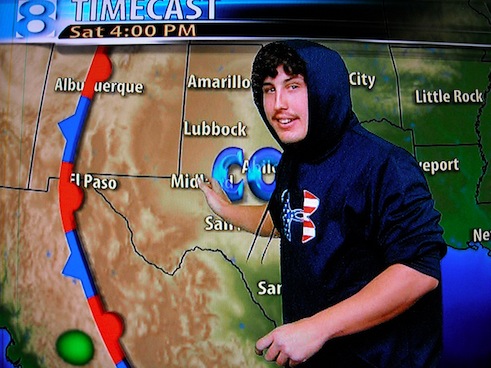 Texas Rangers pitcher Derek Holland goofballed his way through the weather on Friday's edition of WFAA8's 10 p.m. news. Photos: Ed Bark
By ED BARK
OK, it was only the weather. And in some TV markets, clowns have been doing it for years.
Still, Dallas-based WFAA8 long has touted itself as the awards-laden imperial palace of local TV news. You know, the station whose reporters are "crossing state lines" in the interest of "bringing home the kinds of stories no other local station can."
During Friday's 10 p.m. newscast, WFAA8 crossed another line to do the kind of weathercast no other D-FW station ever has. It brought Texas Rangers pitcher Derek Holland in to play around with highs, lows and precipitation while regular forecaster Pete Delkus laughed himself silly.
Holland, the off-center left hander with a small bag of celebrity impressions, brought his poor man's Harry Caray into play while also exclaiming ad nauseum, "Would you look at that!? Just look at it!" That's the oft-used tagline of a youtube comedian known as Ed Bassmaster. It got painful pretty quickly.
Holland's goofball weather segment, promoted throughout the day by WFAA8, came just four days after the ABC affiliate hailed its incoming news director, Carolyn Mungo, as a veritable Joan of Arc of journaism.
But she won't become "the next outstanding leader in the WFAA newsroom" until late February. Meanwhile, WFAA8 so far is fighting losing battles on two fronts in the ongoing February "sweeps" ratings competition.
Through six of the 20 weekdays, WFAA8 has yet to win at 10 p.m. in total viewers while CBS11 leads the pack by a fairly comfy margin. Among the main advertiser target audience for news programming -- 25-to-54-year-olds -- WFAA8 is running third in a very tight three-way race that currently is being paced by NBC5. Yes, that's a shocker, and would be the biggest upset in many a sweeps period if the Peacock somehow manages to hold on.
WFAA8 won both of these contests in the November "sweeps," nipping CBS11 in total viewers while winning fairly easily with 25-to-54-year-olds. But that was then. In the context of the here and now, using Holland as a weathercaster smacked of abject desperation. But if it works, WFAA8 has opened the door wide for the likes of Khloe Kardashian to step in and try her hand at some point. After all, the Rubicon has been crossed.
For his part, Holland predicted "six feet of rain in Wichita Falls" and a "chance of snow" on both Monday and Wednesday before sliding over to Dale Hansen's sportscast and happily agreeing to his request to do Mavericks and Stars highlights while mimicking "Will Ferrell doing Harry Carey."
It's certainly not a crime -- or even a misdemeanor -- to have a little fun on a local newscast. And maybe WFAA8 roped in a few extra helpings of 25-to-54-year-olds by turning both its weather and sports segments into carnival sideshows. But at what price? Or does anybody even give a crap anymore?
There are still a few small pockets of resistance at WFAA8. At least a handful of veteran staffers no doubt are privately appalled by what went down on Friday night. But in reality, all resistance is futile.
WFAA8's sense of entitlement marches on, and its cache of major national awards has been duly cited and praised in these spaces. But the station's heads of state can no longer sniff and say loftily, "Oh, we'd never do something like that."
Because they already have.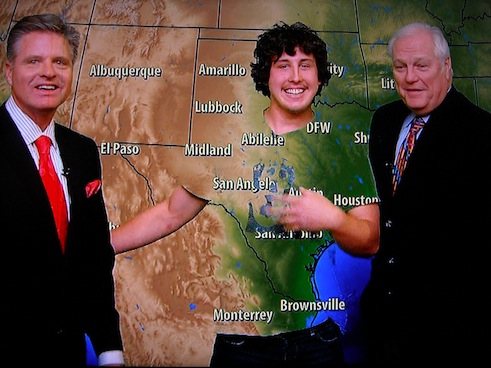 WFAA8's Moe, Larry and Curly. Er, Pete, Derek and Dale.
MIGHT AS WELL GET ALL OF THIS OUT OF MY SYSTEM --
WFAA8's
Good Morning Texas
(9 a.m. weekdays) has yet another new male co-host.
Ty Treadway, 45, has a notable national resume, coming to
GMT
after stints as a daytime soap regular (
One Life to Live, Days of Our Lives
), a game show emcee (
Merv Griffin's Crosswords
) and co-host of
Soap Talk
with Lisa Rinna.
Treadway, who now lives in Frisco, also is an accomplished bodybuilder who once reigned as Mr. Natural Pennsylvania.
In the below photo, Treadway and incumbent
GMT
co-host Amy Vanderoef use chocolate mustaches to mimic poor weathercaster Greg Fields. It happened on Thursday's show, and perhaps could carry over into a "Chocolate Mustache Night" on an upcoming 10 p.m. newscast. All right, enough.