WFAA8 anchor Cynthia Izaguirre's nose survives hard punch from garage door
06/21/10 01:57 PM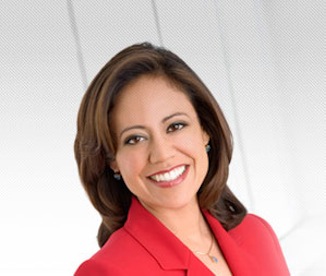 By ED BARK
Cynthia Izaguirre
, co-anchor of Dallas-based WFAA8's
Daybreak
, will be missing in action this week after a garage door got the best of her nose.
Her colleagues reported on the mishap during Friday's program (
the video is below
). Izaguirre related how it happened during a telephone interview Monday with unclebarky.com.
"Already running a little bit late for work," Izaguirre said she backed her car out of the garage at her boyfriend's house but then couldn't find the remote to close the door. It was 3:30 a.m. and dark when she went into the garage, manually hit the closer switch and rushed out to her car. She didn't make it in time.
"I didn't know that his garage door didn't have a sensor -- and my nose turned out to be the sensor," she said. "I had never seen stars, and I saw them Friday morning. I saw little silver stars everywhere. I seriously thought that not only was my nose broken, but that I had lost part of it. That's how badly it hurt. At this point, blood is gushing out of my nose."
She called her boyfriend, who rushed her to the emergency room, Izaguirre said. It turned out that her nose was still intact and gashed but not broken.
"I got lucky, man," she said. "If I had broken it, I would have needed plastic surgery and more time off from work. I was just freaking out."
The doctor decided against stitching the cut, because that might leave a scar, Izaguirre said. Instead she was told not to apply any makeup to the cut for several days, and "in a couple of weeks, it would look like nothing had ever happened. I just feel like a big goof, and I look like one. I've always been clumsy."
Izaguirre offered to return to
Daybreak
for Monday's and Tuesday's programs, and then was scheduled to have Wednesday through Friday off. But WFAA8 news director Michael Valentine told her to take the whole week off to heal, Izaguirre said.
She was already out in public Monday, having lunch with her sister. And she also is feeling good enough to laugh about the mishap.
"Today it looks so much better," she said. "And next week, with a little bit of makeup, you'll never know I hurt my nose."