Ratings sag for Episode 7 of Real Housewives of Dallas
05/24/16 05:15 PM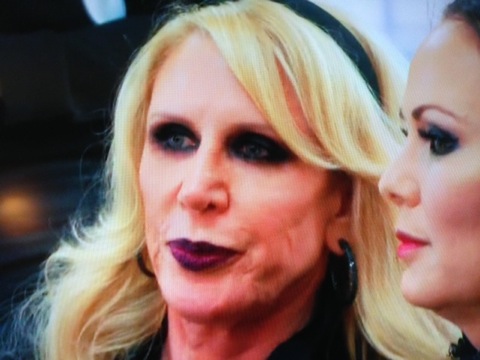 Host of Horrors: Charity grande dame Heidi "Effin" Dillon at her "Gothic State Fair" party (with a side dish of Tiffany Hendra) on Monday night's Real Housewives of Dallas. Photo: Ed Bark
By ED BARK
@unclebarkycom on Twitter
Monday night's Episode 7 of Bravo's
Real Housewives of Dallas
lost a little ratings ground from the previous week during crunch time for the show's very iffy renewal hopes.
RHOD
pulled in a skimpy 856,000 viewers nationally, down from 883,000 from the previous week. Episode 5 still holds the low mark of 789,000 viewers.
In contrast, Bravo's
RHOD
lead-in,
Southern Charm
, had 1,180,000 viewers, up a bit from 1,160,000 for the Monday, May 16th episode. So in the latest Nielsen ratings, that's a drop of 324,000 viewers from
Southern Charm's
's turnout this week.
RHOD
also drooped to a .3 in the advertiser-prized 18-to-49-year-old demographic, down a peg from .4 for the May 16th episode.
Hour 7 of
RHOD
brought the city's dowager countess of charity, Heidi Dillon, into full focus.
RHOD
regular Tiffany Hendra added a middle name of "Effin'," but with all due respect. Because it's suddenly an article of faith with this show that you can't do a bonafide benefit it in this city unless Heidi is in the house figuratively sprinkling her holy water.
When caught in closeup, her face at times seemed like a cross between Cruella de Vil and a Picasso painting gone awry. Oh but we kid the self-important thrower of a "Gothic State Fair" party at which she made Frito chili pie and corny dogs while all five
RHOD
cast regulars (plus supplemental "friend" Marie Reyes) gathered uncomfortably once again.
This time it was Cary Deuber who crossed LeeAnne Locken's decorum line by declining to "go down" on a corny dog at the host's command. After all, she was an invited guest. How dare she refuse. What an ingrate. Deuber otherwise let loose with a volley of snide comments to the camera, some of them nicely played. Particularly the one on how she'd at least been to the altar (or the JP) three times while Locken is still looking to make her maiden voyage.
In other developments, Brandi Redmond's husband, Bryan, apologized to her, as did Locken to Stephanie Hollman (who still can't stand her). And Hendra's husband, Aaron, got to play a few songs at a House of Blues charity function that seemed to be more about getting exposure for him and his still nascent singing career.
It all ended with Locken sniping "Skank" as Deuber abruptly left the Gothic State Fair party. Her salivating "wife" of a husband, cosmetic surgeon Mark, no doubt was lying in wait with another of his personally picked dresses for her to try on and then quickly take off.
Three episodes remain -- and that very well could be it for
RHOD
. It remains the only show in the
Housewives
franchise to average under one million viewers per episode. Where in the hell are all the hate-watchers when you eftin' need 'em?
Email comments or questions to:
unclebarky@verizon.net