Figure skating not a sport? Cue the Twitter bloodsport (updated)
02/14/18 11:38 AM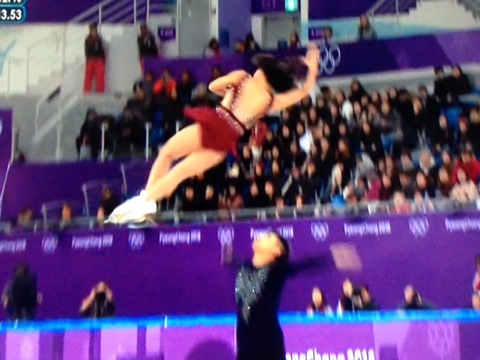 Sport or not a sport? Or is that just a stupid question? Photo: Ed Bark
By ED BARK
@unclebarkycom on Twitter
No Winter Olympics competition gets more prime-time coverage than figure skating, which has been a staple of these Games since 1924.
Still, a dwindling few continue to say it's not even a sport, despite all the obvious athleticism on display. Let's get the dean of D-FW sports anchors out of the way first. Mainly because TEGNA8's Dale Hansen has long had no interest in the entirety of the Winter Olympics. Or as he put it last Wednesday in one of his mini-commentaries for
Daybreak
, "I'm really glad the Olympics aren't on ABC and Channel 8. Because now I don't have to act like I care -- because I don't."
As for figure skating specifically, "It's a nice event," Hansen says. "It takes some skill. But then so does
Dancing with the Stars
, and that's not a sport either . . . When your hair and makeup count and whether you smile or not impacts your score, that's not a sport."
But that's Dale. And he could care less that the great majority of commenters on TEGNA8's Facebook page disagree with him while also calling for his retirement.
Hansen is a stranger to a real blood sport -- Twitter. Members of TEGNA8's digital team occasionally tweet in his name on an
@dalehansen
account. Dale himself has less interest in Twitter than even the Winter Olympics.
But there's a relatively new naysayer in town -- Fox4 sports reporter/anchor and
avid Tweeter Edward Egros
. He perhaps should have stuck his tongue out in close proximity to an icy pole rather than tweet the following: "I have the utmost respect for figure skaters. Only a few people in the universe can do it and they deserve my praise. But it's not a sport."
Your friendly content provider tweeted in response: "Not a sport?! Really?! Then neither are snowboarding, moguls, speed skating. Let's call the whole thing off."
On the contrary, Egros replied, "Those sports have quantifiable metrics that determine a winner. Figure skating is too subjective to have such things, so it's an art form, not a sport. Still, figure skating is really hard."
Egros initially had enthusiastically agreed -- "THANK YOU!" -- with a Tweeter (named "Chubby Ex-Slob") who said that "if you need to pick a song as part of your sport, I'm not going to respect your sport. I respect your art."
Uh-oh, that would leave out the floor exercise portion of gymnastics, in which competitors choose their own accompanying music. And if you want to talk about "subjective" judges, then let's entirely rule out gymnastics as well as boxing, diving and even the NFL with its controversial, outcome-altering Catch or No Catch rulings. Super Bowl LII, for instance. Both Al Michaels and Chris Collinsworth were certain that TD catches by the Philadelphia Eagles' Corey Clement and Zach Ertz would be overturned upon further review. But they weren't.
Meanwhile, my Twitter thread had already been strung out by numerous and sometimes very pointed responses to Egros' stance on figure skating. Let's just say that his supporters were -- charitably speaking -- very few and far between. And his adversaries on Twitter eventually included several Olympic figure skaters.
But I wondered what some of Egros' D-FW television sports peers might think. NBC5's Newy Scruggs, Fox4's Mike Doocy, TEGNA8's Mike Leslie, the NFL Network's Dallas-based Jane Slater and CBS11's Bill Jones were all solicited via Twitter. Chuck Cooperstein, radio voice of the Dallas Mavericks, and Dallas Cowboys chronicler Mike Fisher also later joined in. Among them, only Cooperstein very adamantly contends that figure skating is not a sport. Here are their views:
Doocy
-- "I think it's a sport. But I see Ed's (Egros) point about the subjectivity in the judging. More random than in most competitions. But to me, a competition involving this level of athleticism means it's a sport. Then again, at my age, just getting out of bed in the morning is a sport."
Slater
-- "Uh . . . figure skating is a sport." And later, "Pure athleticism and finesse. Hockey athleticism and finesse."
Scruggs
-- "Figure skating is a sport. Most of us can't skate much less skate a routine jumping up and down on an ice rink."
Jones
-- Yes, it's a sport! Incredible athleticism. This from someone who can't roller skate, much less ice skate!"
Leslie
-- "I'm not sure why 'artform' & 'sport' have to be mutually exclusive things. Just look at Le'Veon Bell run the ball. Or magic run the break. Those are definitely both. So figure skating can easily be both, as well." And later, "Hell, there's subjectivity in judging in boxing, too. Does that get disqualified, too?"
Doocy
-- "Decent point. But then boxing always provides an opportunity for one competitor to leave no doubt about the outcome." To which Leslie responded with the tweet of the night on this subject: Above a GIF of Tonya Harding blowing a kiss, he asked, "You can't score a knockout in figure skating?"
Cooperstein
-- Figure skating most certainly is NOT a sport. It IS an athletic endeavor. Anything that does not allow an objective outcome is NOT a sport. Diving. Gymnastics. X game activity at the Winter Olympics. All (are also) athletic endeavors. None are sports . . . I'm not sure why this is such a hard concept . . . I can't help you if you can't see the difference."
Fisher
-- "I decided a long time ago that the participant was the one who got to decide, not Edward Egros (while) reclining in his La-Z-Boy. Bobby Fischer's (chess) competitions were televised on 'Wide World of Sports.' Good enough for me."
Egros gamely took a lot of punches, on my Twitter feed and even more so on his own separate feed. His only complaint -- and very rightly so -- was that some naysayers labeled him homophobic or sexist. Which is both stupid and ridiculous on their part.
NBC5 video journalist Tim Ciesco also weighed in, reasonably, with an observation that "each of their skates has required components -- and each jump/element receives a pre-determined base score. How well they execute it can add or subtract from their final tally. But I don't think it's more or less subjective than snowboarding."
Egros didn't buy this either. "All of the choreography during jumps, when to do said jumps rhythmically, that's subjective and too easily swayed by judge bias," he tweeted. "It's an art, not a sport. There are awards handed out in art."
The storm has pretty much subsided at this point. Egros would argue that he gave as good as he got. I'd say that responders scored at least a technical knockout. Whatever the case, his bosses should be happy because Egros was "trending" both locally and not nationally on Twitter. "Social media" prowess isn't a mere sport. It's increasingly a necessity if you want to survive in today's local TV news world.
Meanwhile, figure skating resumes in prime-time tonight.
Email comments or questions to:
unclebarky@verizon.net