"I mean, I've got the Stones on my iPod, but I've also got rap" -- NBC5 anchor Jane McGarry talks about life beyond the 10 p.m. news
02/12/10 02:52 PM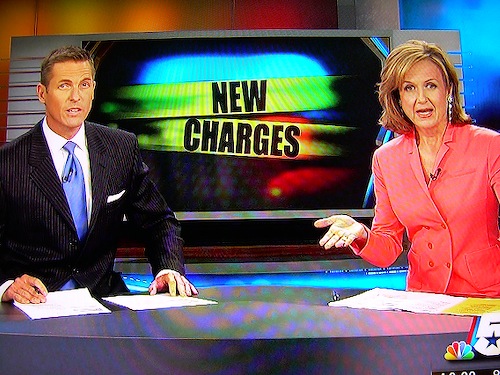 Jane McGarry first teamed with Brian Curtis in July on NBC5's 10 p.m. news. Thursday's edition turned out to be her last after nearly two decades as the station's late night co-anchor. Photo: Ed Bark
By ED BARK
Jane McGarry figures that stepping down from NBC5's 10 p.m. newscasts can be a step up in due time. Or at least that's the story she's sticking to on the day her station announced an end to her nearly two decades on the high-profile late shift.
"Yeah, change is scary," McGarry said in a telephone interview Friday afternoon. "But change can be exciting, too. I'm a person who gets bored easily. I need energy, action, all that stuff. For me, this is the beginning of something new. And I'm not B.S. 'ing you here in any way."
McGarry will remain at NBC5 as co-anchor of the 5 and 6 p.m. newscasts, where her former 10 p.m. partner, Mike Snyder, has been deployed since NBC5 replaced him in July with Brian Curtis. McGarry's successor is Meredith Land, beginning immediately. Curtis and Land will debut as the station's new 10 p.m. duo after Friday's telecast of the Winter Olympics opening ceremonies.
The NBC5 release announcing the new lineup quotes McGarry as saying she'll have "additional time to devote to a new project that I am very excited about."
She declined to be more specific, save to say that "it has to do with television" and possibly could be in partnership with NBC5.
"I know some people are going to say, 'Oh, she got the boot and she's just saying this stuff.' That's not the case," McGarry said. "I don't know what I will be able to do or accomplish. But to the best of my abilities I hope to make this last third of my life the most interesting and the most fun. I mean, I've got the Stones on my Ipod, but I've also got rap . . . I don't do well with boredom. Trust me. It's not my strong point. I've gotta live every minute of every day. I'm a big, enjoyment, fun person."
McGarry's last 10 p.m. newscast was Thursday, and she didn't want it to play out the way Snyder's goodbye did just seven months earlier. He got emotional and she commiserated with him. It of course
wound up on youtube
.
"You think I want to go through that again?" McGarry says, laughing. "No. I purposely did not want to say goodbye on TV."
McGarry said she's been contemplating a change for the past three years, and had been talking "actively" with management for the last six months.
"Am I sentimental? Yes. My executive producer at 10 p.m. is my best friend. And he and I can't look at each other right now without bursting into tears. However, I'm realistic. I can't do this forever. Change is inevitable. Could I do it forever? No. Would I want to do it forever? Half of me says yes, because I love it so much. It's one of the best jobs on earth. I love the constant excitement, the energy and the pressure of the news."
McGarry, who is in her early 50s but would not specify her age, said she still considers herself "totally a full-time player here at Channel 5 and totally a full-time player in moving ahead into this next thing. It's like it really is a great thing. I'm working on my future and I'm still involved here. That may not make the best, juicy story on earth. But honestly, I'm kind of excited about what may lie ahead."
She's contractually prohibited from talking about her new deal with NBC5. But she said that Land clearly was being groomed for a more prominent anchoring spot after she joined the station in 2003.
"I knew they had intentions of growing Meredith and letting her develop," McGarry said. "I'm very excited for Meredith. Anybody who thinks there's any animosity there would be completely wrong. She and I are good friends. I'm happy for her."
McGarry joined KXAS-TV (Channel 5) long before it became an owned-and-operated NBC station. She began as a weekend anchor in 1982 while also reporting three days a week. Her next step up was anchoring the noon and 5 p.m. newscasts, beginning in 1984. In 1991 she began co-anchoring at 10 p.m., partnering with both Brad Wright and Randall Carlisle before Snyder joined her in April 1992.
McGarry currently has no idea whether her days at NBC5 are numbered. That depends on how her "new project" pans out.
"I'm gonna swing for the fences," she said. "I am extremely fortunate. I mean that. I hope I have accurately conveyed to you that I am truly fine with all this."