Former NBC5 reporter/congressional candidate Grant Stinchfield replacing Janine Turner Saturday nights on KLIF
12/07/12 11:17 AM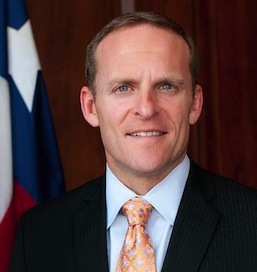 By ED BARK
@unclebarkycom
Former NBC5 reporter and Republican congressional candidate Grant Stinchfield will be replacing actress/commentator Janine Turner as host of KLIF radio's (570 AM) 9 p.m. Saturday show.
The Stinchfield Report
will begin "taking the fight to the establishment," as he put it, on Sat., Dec. 8th. His first scheduled guest is Newt Gingrich.
"One of the problems with conservative talk radio today is we have a bunch of old, angry men," Stinchfield said in a telephone interview Friday. "And though I certainly have the ability to get angry, I also have the ability to have a lot of fun."
Earlier this year, Stinchfield unsuccessfully challenged Republican incumbent Kenny Marchant for the 24th District congressional seat. He received 37.6 percent of the vote in his first run for public office and hasn't ruled out trying again.
Turner's KLIF show launched on May 21, 2011. There was no immediate word on why the former
Northern Exposure
star is leaving. Stinchfield said he recently received a call from KLIF asking if he'd be interested in taking Turner's 9 p.m. slot. His show initially will be one hour, but likely will expand to two in January, he said.
Stinchfield continues to own and run the KWIK Kar Auto Care Center in Irving. He
left NBC5
in April of 2011 after seven years as a reporter. While running for Congress, Stinchfield
clashed with his old employer
, accusing NBC5 of killing stories to protect special interests.
The station ran a 30-second spot in which Stinchfield made his allegations. It then denied them in an official statement to unclebarky.com.
Stinchfield, who is married to Amy Vanderoef of WFAA8's
Good Morning Texas
, said that his TV reporting career "taught me that the most important thing to do is to simplify the issues in an entertaining way."
"I hope to use the (KLIF) show as a place where we can interview guests and use my skills from my background in media to talk about important issues that are facing Texans."
A 15-minute demo tape that Stinchfield made for KLIF is currently
posted on his website
.
unclebarky@verizon.net