Local Nielsen ratings snapshot (Fri.-Sun., Oct. 7-9) -- prez debate on eight networks edges Cowboys game on one
10/10/16 11:10 AM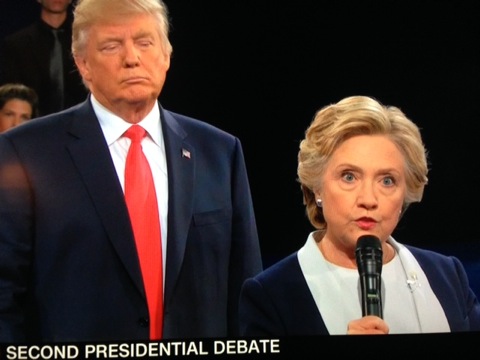 Donald Trump loomed large at town hall debate with Hillary Clinton.
Photo: Ed Bark
By ED BARK
@unclebarkycom on Twitter
Sunday night's gut-punching town hall "presidential" debate between Donald Trump and Hillary Clinton on eight networks had just enough tabloid appeal to beat the Dallas Cowboys-Cincinnati Bengals mid afternoon/early evening game on just CBS.
Game 5, an impressive and dominating 28-14 win by Dallas, averaged 1,374,238 D-FW viewers. A total of 522,757 were in the advertiser-prized 18-to-49-year-old age range.
Below are the network-by-network audiences for the verbal brawl moderated by CNN's Anderson Cooper and ABC's Martha Raddatz. NBC kept its contractual commitment to the NFL's
Sunday Night Football
package while Telemundo blew this one off and instead presented telenovelas, which may have been less steamy. The debate stretched to 9:37 p.m.
Total Viewers
CBS -- 349,013
ABC -- 276,302
Fox News Channel -- 225,404
Fox/CNN -- 203,591 apiece
Univision -- 101,795
MSNBC -- 65,440
PBS -- 50,898
That's a total of 1,476,034 viewers, just over 100,000 more than the Cowboys drew.
18-to-49-Year-Olds
ABC -- 112,249
CBS -- 102,627
Fox -- 96,213
CNN -- 80,178
Univision -- 57,728
Fox News Channel -- 28,864
PBS/MSNBC -- 25,657 apiece
That's a total of 529,173 viewers in this key audience demographic, which inched out the Cowboys' 522,757.
NBC's prime-time game between the Green Bay Packers and New York Giants averaged 428,895 total viewers and 186,011 in the 18-to-49 age range.
Then there were the Texas Rangers, who got swept by the Toronto Blue Jays after a regular season in which they won more games than any other American League team. Toiling in prime-time on TBS in a game that ended precisely at 10 p.m., the Rangers' 7-6 extra innings loss averaged 298,115 total viewers, with 112,249 in the 18-to-49 motherlode. The crowd peaked in the agonizing final 15-minute segment, with 487,164 total viewers and 221,290 in the 18-to-49 realm.
Even Fox's noon-starting Lions-Eagles games had higher overall audience averages than the Rangers' last gasp. It drew 443,537 total viewers and 189,219 in the 18-to-49 age range opposite CBS' Minnesota Vikings-Houston Texans game.
On Saturday, the annual Texas-OU game, exiled to an 11 a.m. start on FS1, still managed to lead the college football parade with 319,928 total viewers.
In Friday's Nielsens, the Rangers' Game 2 loss to Toronto, which started at noon, averaged 174,506 total viewers, with 70,556 in the 18-to-49 demographic.
CBS' 8 p.m. episode of
Hawaii Five-0
led all Friday programming in total viewers with 298,115.
Finally, here are Friday's local news derby results.
CBS11 won in total viewers at 10 p.m. while Fox4 and NBC5 shared the lead among 25-to-54-year-olds (main advertiser target audience for news programming).
Fox4 had the most total viewers at 6 a.m., but the Peacock was tops with 25-to-54-year-olds. NBC5 again cleaned up in the early evening with twin wins at both 5 and 6 p.m.
Email comments or questions to:
unclebarky@verizon.net