Latest made-for-TV car chase should have been nipped far earlier
08/19/10 10:28 PM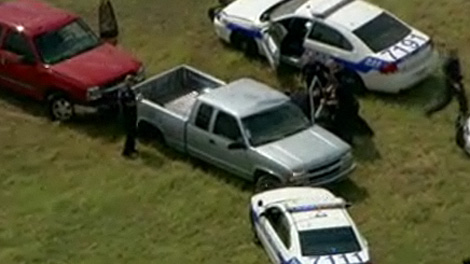 Thursday afternoon chase comes to a halt at Love Field. WFAA8 photo
By ED BARK
Yes, I know. Stopping these prolonged car chases much earlier in the game will deprive local TV news stations of both their breathless live coverage and eventual lead stories on all nighttime newscasts.
Still, the moron who led police on a
super slo-mo adventure
Thursday afternoon should have been stopped almost before he started. It's as simple as that. Police contend they didn't want to endanger the public safety in case the driver came out shooting in a residential area. So instead they let him crash through a flimsy gate at Love Field Airport before finally deciding enough was enough.
Atrocious.
But the TV stations love it because it makes for "great TV." And now let the recriminations begin, led by those same TV stations.
Ed Bark