Veteran CBS 11 reporter Jay Gormley opting for new career; so is the station's special projects editor
09/04/12 05:41 PM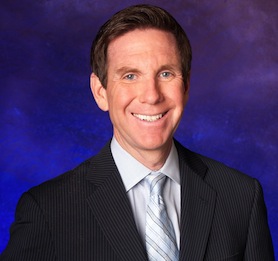 By ED BARK
@unclebarkycom
Add CBS11 veteran Jay Gormley to the list of D-FW television reporters making a career change.
Gormley, who joined the station in 1997 and has been a nightside reporter throughout his tenure, is resigning to become director of communications for the Dallas region of Time Warner cable.
His last day at CBS11 will be on Sept. 14th and he starts his new job on the 24th of this month.
"I've been very fortunate, very blessed," Gormley said in a telephone interview Tuesday evening. "I just reached a point where I've done everything I can as a journalist . . . I'm a man in my mid 40s (46) and now is the time to strike if I'm going to make this leap."
Gormley, who's also a
filmmaker and scriptwriter in his spare time
, said his family is now the single major priority in his career decisions. He got married in October 2009 to Dallas social worker Robin Lisa Raxlin, and they have a one-year-old son, Daniel Patrick.
He had heard about the opening at Time Warner, and decided to apply in the interests of working more stable hours at a job that might have more of a future for a person his age.
"It was such a great opportunity that I couldn't pass on it," Gormley said. "I have nothing but glowing things to say about Channel 11. And Adrienne (news director Adrienne Roark) could not have been more gracious about the situation. I'm leaving on great terms. I'm leaving on a high."
Gormley logged a total of 23 years as a TV reporter, roughly two-thirds of them with CBS11.
"It's been an honor and a privilege to work with the journalists in this market at all five TV stations," he said. "I'll put this market up with any market in the country."
CBS11 also is losing its editor of special projects and investigations, Daniel Penz. He's resigning to join the JCPenney corporate communications team, CBS11/TXA21 director of communications Lori Conrad confirmed Tuesday.
This has been an unusually busy summer for departures at D-FW television stations. To name just a few, WFAA8 reporter Craig Civale and anchor-reporter Casey Norton have segued to public relations positions while longtime meteorologist Bob Goosmann, who worked at both CBS11 and later CW33, is getting into real estate.
Another veteran, ex-WFAA8 anchor Debbie Denmon, recently accepted a position as director of communications for the Dallas County District Attorney's office after the station declined to renew her contract.