This just in: a night in the lives of D-FW's late night newscasts (Tues., Nov. 20)
11/21/07 12:29 PM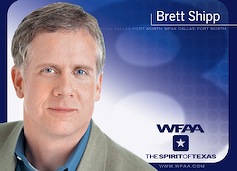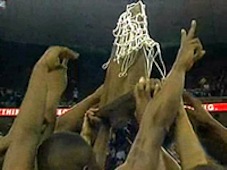 Belo8's Brett Shipp calls foul on South Oak Cliff's 2006 state title.
Contrary to what some people might think, aggressive investigative reporting often is a gut-churning experience -- and not for just those under fire.
Bulldogs such as Belo8's
Brett Shipp
must confront the targets of their stories, often with unpleasant results. They're called names, denied access, and branded as ambushers or grandstanders. And if your investigation targets people of color, return charges of racism invariably come your way.
Shipp no doubt is taking ample heat today for his
Tuesday night investigation
of South Oak Cliff's 2006 state basketball championship team. School records obtained by Belo8 indicate that one of the team's star players, Kendrake Johnigan, should have been bounced from the team for failing an English class, Shipp asserted. And if that's the case, then the basketball powerhouse's 2006 title also is in danger of being forfeited under the state's "No Pass, No Play" edict, he said.
Johnigan, who received his high school diploma, now is a member of Eastfield Junior College's basketball team. "I had the class, but I didn't know I had the class," he told Shipp of the English course that he was dropped from but later somehow passed.
Shipp also talked to Johnigan's coach, James Mays II, at the South Oak Cliff gym. Mays said he had signed the document transferring Johnigan from English III to a physical education course. Shortly before the state championship game, Johnigan also was assigned to bring up his grade -- from 50 -- in an after-school "reconnect class."
Mays balked at further questions, asking Shipp, "Have you guys got permission?"
The reporter then fired a parting shot while being escorted from the school. "Sir, did you cheat to win a state championship?" Shipp asked.
"I don't never cheat," Mays replied. "No sir, I never cheat . . . Talk to our principal, OK?"
Regina Jones is the current principal. But her predecessor, Donald Moten, is the one who signed off on Johnigan's rather magical passing grade of 73. Belo8 investigated Moten in May 2006 for alleged grade-changing, with footage showing him refusing to talk to the station. Shipp told viewers that Moten "has yet to respond" to Belo8's requests for a followup interview on the Johnigan situation.
Shipp's investigations have won a number of major awards over the years. He generally has his facts straight before sticking his neck out. And this latest expose is one of the more volatile he's ever undertaken.
Part 2 of his report will air on Wednesday's 10 p.m. newscast, Shipp told viewers. Sports anchor
Dale Hansen
also said he'll go "Unplugged" on the matter -- and in support of Shipp's reporting.
Meanwhile, DISD superintendent Michael Hinojosa, in attendance when South Oak Cliff won the 2006 state title, is promising a full investigation based on Belo8's findings.
One could argue that Shipp and Belo8 should simply let bygones be bygones rather than open what could be a gaping wound to South Oak Cliff's basketball program. That would have been a far easier path than the one they're taking. And it's hoped that Shipp and Belo8 would show the same zeal in investigating a predominantly white high school.
Still, facts are facts, wrong is wrong, and the case against South Oak Cliff seems to be pretty damning. None of this is pretty, though. And whatever the school, all of it is a shame.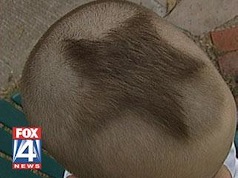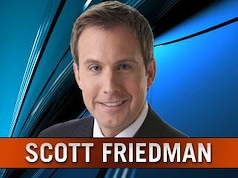 In contrast, another school story, by Fox4's
Lynn Kawano
, may have been the most nonsensical of the ongoing November sweeps.
Her "Haircut Hassle" piece focused on a five-year-old kid who's showing his support for the Dallas Cowboys by having a star cut on the top of his otherwise shaved head. His Richland school says that violates policy. So the pint-sized fan, still two years shy of the age of reason, can't return to class until his hair conforms to code. That's perfectly sensible, right?
Enter the kid's ridiculous father, who told Kawano, "I don't particularly care for the look of the haircut myself, but he has the right of individuality and to present himself just like anybody else does. And I'm not gonna let the school dictate that."
This guy apparently hasn't read "Parenting for Dummies" yet. By his rational, the kid could attended classes naked in the further interest of expressing his "individuality." Or maybe he'd like to punch ol' Dad in the gut whenever he pleases. After all, you don't want to inhibit a five-year-old kid's freedom of choice. How the hell did this "story" ever make the air?
Fox4 investigator
Becky Oliver
had a firmer grip on reality with her "Veterans Care Crisis" probe into alleged abuses at North Texas VA hospitals. She buttered it a bit thick for starters, though, telling viewers, "They risked their lives for our country. Making sacrifices. Defending freedom -- all over the world. But their enemy is no longer on the battlefield. To these vets and their families, it's at North Texas VA hospitals."
It is truly sad the way some aging veterans are treated. Unfortunately, these VA hospital malpractice stories are getting to be a dime a dozen. Or as vet Sam Dillard told Oliver, "The care I got at the VA is 'Don't care'."
As a veteran myself (1967-'70, U.S. Marines), let me say this. I wouldn't go to a VA hospital if my life depended on it. Oliver's investigation, scheduled to continue Wednesday night, only underscores the glaringly and tragically obvious. And the lawsuits filed by some of these aggrieved veterans aren't going to change that.
THIS AND THAT***
These spaces are usually critical of NBC5's bottom-scraping brand of news coverage. But Tuesday's 10 p.m. show actually hit a few high notes.
Reporter
Scott Friedman
followed up on last week's piece on GM pickups and SUVs with faulty speedometers. Other motorists have contacted the station with their complaints, and they seem legitimate. The problem is with some 2003 and 2004 models, and the maker has offered free repairs for vehicles with mileage of less than 70,000. But there's been no recall, Friedman reported, because GM doesn't consider broken speedometers to be a "safety concern." Say what?
***
NBC5's reliable
Randy McIlwain
had the night's best report on the dump truck nail spill that shut down a stretch of I-75 near Anna during rush hour Tuesday. McIlwain reported live from the scene, telling viewers that the road only recently had re-opened. In contrast, Fox4's
Jason Overstreet
reported live via telephone. Belo8 offered a brief, reporter-less blip and CBS11 had no coverage at all on its 10 p.m. newscast.
***Grant Stinchfield
, also of NBC5, had an interesting story on the Dallas police department's disinterest in investigating roughly 70 percnt of property theft crimes. "There's no use in wasting time and resources on a case that we know we can't solve," said Dallas police Lt. Vernon Hale.
***
All four stations led their newscasts with weather briefs on Wednesday's incoming cold front. CBS11's
Kristine Kahanek
had the best way of putting it: "Get your winter woolies ready."