Tammy Dombeck on the roads again with CBS11 debut
03/04/13 09:06 AM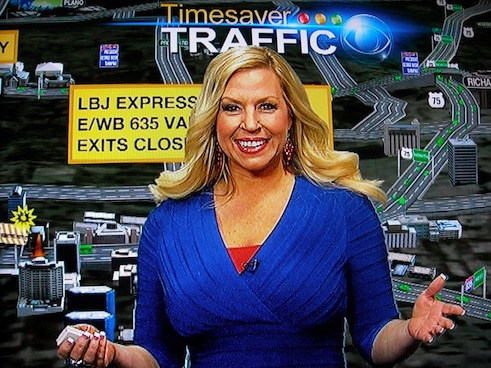 Back in gear: Tammy Dombeck on CBS11 Monday. Photo: Ed Bark
By ED BARK
Former NBC5 "Gridlock Buster" Tammy Dombeck officially returned to a driver's seat Monday on CBS11's early morning news program.
"My first day to fill in. I'm nervous," she said at the start of her first traffic report in the 4:30 a.m. segment. Dombeck then smoothly navigated the pre-dawn highways and byways in the station's "Timesaver Traffic" pog. Meteorologist Garry Seith later called her "Tommy" in the 5 a.m. hour, but that was easy to laugh off.
As
first reported in late January
on unclebarky.com, Dombeck will be filling in at CBS11 when the occasion demands. Her Monday debut required a double shift, with regular traffic reporter Whitney Drolen moving over to co-anchor with Brendan Higgins while his full-time desk mate, Adrienne Bankert, went on vacation. When she returns, Drolen will take some time off. Dombeck's first tour of fill-in duty at CBS11 is scheduled to last two weeks.
After 12 years with NBC5, Dombeck signed off on July 27th of last year after reaching an impasse on a new contract. One of the principal sticking points was new owner Comcast's refusal to re-install an existing wardrobe allowance. A standard non-compete clause enforced by NBC5 then kept Dombeck off the air in the D-FW market for the next six months.
CBS11's early morning show made
significant year-to-year rating gains
during the just-concluded February ratings "sweeps," but remains in fourth place in both total viewers and 25-to-54-year-olds, the main advertiser target audience for news programming. The station now has two former NBC5 early morning mainstays on its team. Higgins and Dombeck worked together for eight and a half years at the Peacock.
D-FW Television News Note:
Wendy Corona, who recently
worked as a freelancer at WFAA8
, has left the market to join Atlanta-based WSB-TV as a weekend anchor. She started this past weekend, Corona tweeted throughout the weekend. Former WFAA8 early morning co-anchor
Justin Farmer also is with WSB
, where his father, Don Farmer, was once a household name.
unclebarky@verizon.net