Local Nielsen ratings snapshot (Mon., Oct. 22) -- debate audience drops opposite baseball/football
10/23/12 10:49 AM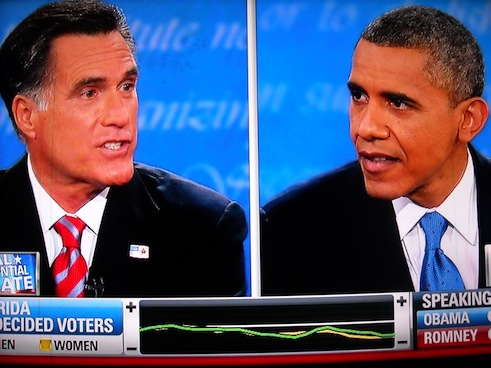 One last time: Romney vs. Obama in debate finale. Photo: Ed Bark
By ED BARK
@unclebarkycom
Absent one network and going against both baseball and football, the final debate between President Obama and Mitt Romney drew fewer D-FW viewers than either of the first two. But it barely beat the only veep encounter between Joe Biden and Paul Ryan.
Fox, contractually obligated to show Game 7 of the NLCS between the victorious Giants and vanquished Cards, reduced the prime carriers to nine networks Monday night.
Here's the breakdown in total viewers:
ABC -- 302,905
NBC -- 289,136
Fox News Channel -- 247,831
CBS -- 178,989
CNN -- 103,263
Univision -- 89,495
PBS -- 68,842
MSNBC -- 61,958
CNBC -- 4,819
Add 'em all up and that's 1,347,238 viewers. Icky foreign policy tends to fall short in the ratings game, even though this was the last debate before election day.
Here are the D-FW audiences for the three other debates:
Presidential No. 1 -- 1,445,681
Presidential No. 2 -- 1,631,556
Vice Presidential -- 1,342,417
The Giants' 9-0 closeout of the Cards, which stretched through Fox4's 10 p.m. newscast, averaged 151,452 viewers. ESPN's
Monday Night Football
game between the Bears and Lions had 213,410 viewers.
The pre-debate warmup shows on NBC and ABC both outdrew football or baseball. NBC's truncated 7 to 8 p.m. showing of
The Voice
won the time slot with 337,326 viewers while ABC's shortened
Dancing with the Stars
ran close behind with 323,557 viewers.
The Voice
as usual slaughtered
DWTS
among advertiser-prized 18-to-49-year-olds, by a score of 162,659 viewers to 54,220.
Here are Monday's local news derby results:
WFAA8 won a downsized three-way race at 10 p.m. in total viewers, but NBC5 ran first with 25-to-54-year-olds, the main advertiser target audience for news programming.
NBC5 ran the table at both 6 a.m. and 5 p.m. The 6 p.m. firsts went to CBS11 in total viewers while the Peacock capped a big day with a 6 p.m. win in the 25-to-54 demographic.
unclebarky@verizon.net