CW33 adds Duarte Geraldino to reporting staff
07/20/10 12:11 PM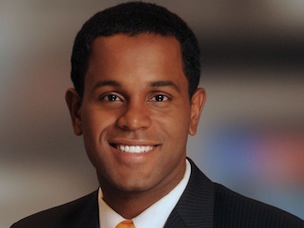 By ED BARK
Dallas-based CW33 has a new full-time reporter, and he's already on the air.
Duarte Geraldino, who's been well-traveled of late, joined the station earlier this month. The Brooklyn native and 2000 Williams College grad recently left Fox-owned KRIV-TV in Houston, where he'd been a reporter since 2007. He arrived in Houston from Baltimore's ABC affiliate, WMAR-TV after earlier reporting for NBC's Columbus, Ohio station, WCMH-TV, where he started in 2003.
Geraldino, who majored in Asian studies and minored in economics at Williams College, had been a Wall Street corporate finance analyst before joining CNN's New York bureau assignments desk. He also co-produced programming for the all-news network's financial news network before getting his first on-camera experience at New York's Capital News 9, a 24-hour cable news channel now called YNN Capital Region.
While at WCMH, Geraldino also appeared as a guest chef on the station's noon news program. His biography says that he speaks both Spanish and Mandarin Chinese.
During Monday's 9 p.m. newscast on CW33, Geraldino reported on a cosmetics scandal. Here's an example of his work: