Local Nielsen ratings snapshot (Tues., June 7) -- Mavs draw biggest crowd to date with pulse-pounding, beat the Heat Game 4
06/08/11 10:12 AM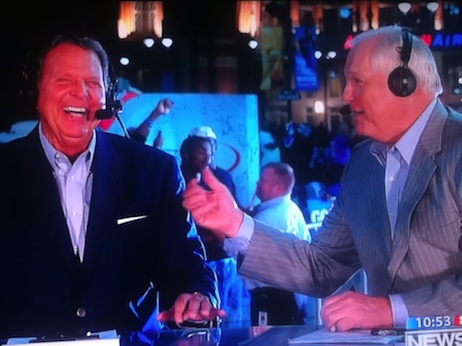 Sports anchor Dale Hansen and analyst Bob Ortegel, bounced from Mavs telecasts by owner Mark Cuban, are putting lots of pep in the step of WFAA8's pre- and post-game coverage. Photo: Ed Bark
By ED BARK
Another crazily intense game in the NBA Finals pushed the Dallas Mavericks to new local ratings highs in their 86-83 win over the Miami Heat.
Game 4 on ABC edged Game 1 by a score of 1,308,957 to 1,302,032 in D-FW's total viewer Nielsens. The crowd cried out for more in the final 15 minutes, when the audience swelled to a peak of 1,717,574.
The latest gut-grinder also soared to the top of the leader board with advertiser-coveted 18-to-49-year-olds, drawing 743,676 viewers in this age range. That easily beat the previous Game 1 high of 697,607.
The 18-to-49 haul for Game 4 also peaked in the closing 15 minutes -- 10:30 to 10:45 p.m. -- with an amazing 1,003,633 viewers.
Tuesday's first 15 minutes of ABC/WFAA8's post-game coverage kept a lion's share of the viewers in both audience measurements. From 10:45 to 11 p.m., it drew 1,412,843 total viewers, with 835,812 in the 18-to-49 demographic. WFAA8's post mortem again was very ably manned by sports anchor Dale Hansen and old-line analyst Bob Ortegel.
To reiterate what's been said several times in these spaces, Mavs owner Mark Cuban erred in dumping Ortegel during the season and replacing him with two former Dallas players, Derek Harper for home games and Brad Davis on the road. Ortegel understands basketball better than Hansen knows his way around prime rib. So simply bring him back next season as a grown-up foil for play-by-play dude Mark Followill, who would love to be reunited with Ortegel but of course can't say so publicly.
Game 4 was marked by another clutch Dirk Nowitzki performance down the stretch despite being drained by a 101-degree temperature and sinus problems. Unlike Game 3, though, he had ample help throughout from Tyson Chandler, Jason Terry, DeShawn Stephenson and Shawn Marion. All four members of the supporting cast scored in double figures, with Nowitzki topping the charts with 21 points. Chandler also added 16 rebounds.
Now knotted 2-2, one of the most thrillingly competitive NBA Finals in history resumes on Thursday night in Dallas, with the Mavericks pretty much in another must-win situation to have a realistic chance of becoming champs for the first time ever. The Miami Viceroys remain super-imposing, though, with a slumbering LeBron James either ready to explode or become America's chump if the Mavs win it all while his talents moulder during a long off-season in South Beach.
Also on Tuesday night, NBC's
America's Got Talent
and CBS'
NCIS
rerun both aired out of harm's way at 7 p.m. before Mavs-Heat tipped off at 8:07 p.m.
NCIS
won the hour in total viewers while
Talent
ran third behind a WFAA8/ABC combo of pre-game shows. WFAA8/ABC topped the field among 18-to-49-year-olds, though, while
NCIS
slid to fourth.
From 8 to 10 p.m., NBC's new hit,
The Voice
, made a respectable showing opposite the Mavs with 235,474 total viewers and 125,043 in the 18-to-49 demographic. On most hot weather nights that's enough to win your time slot.
In local news derby results, Fox4, NBC5 and CBS11 fought for audience scraps at 10 p.m. opposite the NBA Finals. The Peacock prevailed in total viewers with just 152,365 of 'em while also winning among 25-to-54-year-olds, the main advertiser target audience for news programming.
The golds were split at 6 a.m., with NBC5 tops in total viewers and Fox4 in first with 25-to-54-year-olds. Fox4 also nabbed the 5 and 6 p.m. trophies in the 25-to-54 demographic.
WFAA8 and CBS11 tied for first place in total viewers at 6 p.m., with WFAA8 winning outright in that measurement at 5 p.m.