This just in: A night in the lives of D-FW's 10 p.m. newscasts (Thurs., Feb. 8)
02/09/07 11:18 AM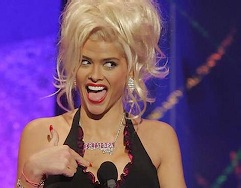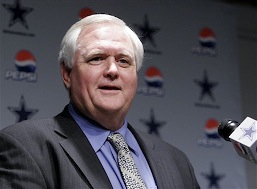 By ED BARK
Jim's Krispy Fried Chicken in Mexia and the Dallas Cowboys' Pepsi Cola press room at Valley Ranch were the disparate go-to venues on Thursday's late night newscasts.
Let's go to the videotape to see how the four big providers handled the sudden death of Anna Nicole Smith and the surprise elevation of Wade Phillips.
All of the stations sent reporters on a 90-minute drive to Mexia, where they gathered in front of the fowl-smelling place where Smith once waitressed under her birth name of Vickie Lynn Hogan. Jim wouldn't let anybody in, but issued a printed statement expressing shock and sadness at the tabloid queen's passing.
Fox4's soothing
Jeff Crilley
, whose voice is like melted butter, easily did the best job under the circumstances. Crilley had the smarts to visit the local
Mexia Daily News
, where Smith's death rated no more than below-the-fold display on the next day's front page. He noted the contrast between the voluminous national coverage of her death in Hollywood, Fla. and the comparative cold shoulder from Mexia's only daily.
"It wasn't the kind of fame that everyone here enjoyed," Crilley said. "But they all agree that her death is sad on so many different levels."
Many in town chose not to talk about Smith on-camera, Crilley said. Not so Nan Capers, who used to teach at the high school that Smith attended. Capers popped up on all four newscasts. She told Crilley that Smith "was hunting for something, and couldn't find it."
NBC5 stalwart
Susan Risdon
, also known as the "Mistress of the Dark" in these dispatches, found a tart convenience store cashier who said that Smith's national fame didn't do Mexia any good. "She never did anything to help us or anything like that," the young woman opined.
Belo8 sent hunky new reporter
Craig Civale
to the scene. This time he showed his face after two previous "sweeps" reports in which he was only heard, not seen. Civale looked to be fully recovered from eye burns suffered during a recent mishap with camera lights. His standard-issue report noted the lockdown at Jim's Krispy Fried Chicken, but didn't get into any of the community's negative feelings toward Smith.
CBS11's man-on-the-scene,
Chris Salcedo
, was borrowed from sister station TXA21. Salcedo pretty much stumbled through the live portion of his report, showing he still needs more seasoning even if Jim's Krispy Fried Chicken doesn't.
The Phillips story drew more unfriendly fire from sports anchor
Dale Hansen
, who proclaimed, "I'm goin' unplugged, and I don't think (Cowboys owner Jerry) Jones is gonna like it."
His end-of-the-newscast commentary made plenty of sense. Hansen summoned the stomach to praise Jones' passion and overall likability. But that's overshadowed by his continued ineptness as the team's general manager, said Hansen.
"The general manager of the Cowboys couldn't get a job with another NFL team if he didn't bring his checkbook with him," he contended. "Not a single team in the NFL would hire him. And he's the general manager of the Dallas Cowboys!"
Hansen said Phillips in fact might be a good pick in Jones' ongoing carousel of coaches. "But the biggest problem Wade Phillips has in convincing people he
is
the right man for the job is that Jerry Jones says he is."
CBS11 sports anchor
Babe Laufenberg
focused on Jones' apparent change of heart in hiring Phillips instead of the heavily favored Norv Turner. On Saturday in Miami, Jones told the station he was "leaning" in a certain direction. He stammered when CBS11 asked him at the press conference whether he was speaking of Phillips.
"Not necessarily," Jones finally got around to admitting. Asked whether the question wasn't clear enough, Jones said, smiling, "You were clear, and I'm trying to be unclear."
Mike Doocy
, Fox4's sports chief, noted how choked up Jones got before introducing his latest hire to the media. The station also had an interview with Phillips' colorful father, former Houston Oilers coach Bum Phillips.
"He won't be a screamer and a hollerer," Bum said of his son. "But he might pull 'em aside and give 'em an earful."
A Fox4 viewer survey gave Phillips a paper-thin vote of confidence. Fifty-two percent said they agreed with his hiring; the other 48 percent didn't.
NBC5 sports anchor
Newy Scruggs
again got little time to do much of anything on a station where sports at best is an afterthought.
"I got an angry email who called Wade Phillips Dave Campo 2.0," Scruggs said to off-camera hoots from anchors
Jane McGarry
and
Mike Snyder
. Sorry, time's up.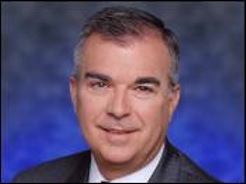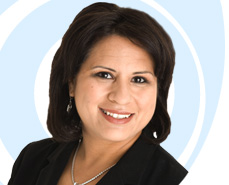 Good work from CBS11's Robert Riggs and Belo8's Rebecca Lopez
Other news broke in, too. CBS11 investigator
Robert Riggs
uncovered ongoing corruption in Iraq in which billions of dollars worth of stolen oil ends up funding insurgents who are terrorizing the country. Inoperative meters on transport tankers allow easy theft of the black gold, Riggs said. It also results in higher prices at domestic pumps when countless barrels of oil headed for the U.S. in fact never get here.
Riggs' principal source was a former state department oil advisor to Iraq named Mikel Morris. It was an important story with worldwide implications, even if too many viewers seemingly would rather watch pieces on how to lose weight or make their skin smoother. There are plenty of those going around these days, principally on NBC5 and Belo8.
Reporter
Rebecca Lopez
of Belo8 bucked that trend with an investigation into the much-publicized murders of young couple Linoshka Torres and Luis Campos. They apparently were victims not of voodoo, as a Wednesday report implied, but of a vengeful drug ring boss who thought they had broken into his house and robbed him. Torres and Campos were tortured and killed "by mistake," police now think. Lopez did the requisite legwork to flesh out a story that no other station had.
Contrast the above two reports with NBC5's heavy nightlong promotion of a scent that supposedly drives women wild. Anchor McGarry's subsequent in-newscast tease went like this: "Men think it stinks, but it turns some women on. The sexy smell you'd never expect, and the rest of the day's news in 30 seconds."
The "story," barely longer than its tease, was an 18-second reader by anchor Snyder. A study done by the University of California at Berkeley found that "the smell of sweat has a powerful effect on women," Snyder grandly told viewers. A whiff of it prompts "increased hormone levels and a faster heart rate."
Man, that's Peabody-quality stuff.
Here's Thursday's violent crime story count, with the six-night running totals in parentheses:
NBC5
-- 2 (31)
Fox4
-- 2 (14)
Belo8
-- 1 (13)
CBS11
-- 0 (15)