Local Nielsen ratings snapshot (Thurs.-Sun., March 1-4) -- Oscars again more watched than the movies that won, but . . .
03/05/18 10:53 AM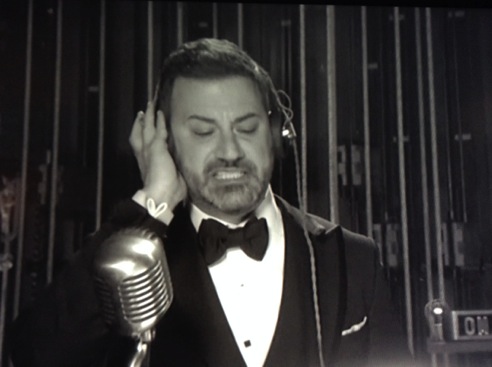 Host Jimmy Kimmel goes the newsreel route for starters. Photo: Ed Bark
By ED BARK
@unclebarkycom on Twitter
The Oscars remain masters of the awards show domain, even while that sinking feeling again sets in.
Sunday's 90th annual awards ceremony, which ran from 7 to 10:51 p.m. on ABC, again failed to match the previous year's numbers in D-FW. As recently as the 2015 telecast, Hollywood's biggest dress-up event was still drawing one million viewers locally. The latest Oscars, hosted for the second straight year by Jimmy Kimmel, dipped to 726,454 viewers and 308,939 in the key advertiser-coveted 18-to-49-year-old demographic.
The 2017 ceremony averaged 763,466 total viewers and 339,953 in the 18-to-49 realm after 2016's Oscars (with Chris Rock as host) pulled in 878,218 total viewers and 346,151 in the 18-to-49 age range.
All three were substantial drops from 2015, when the Neil Patrick Harris-hosted Oscars averaged 1,004,256 total viewers and 428,197 within the 18-to-49 motherlode.
Nationally, the early Nielsen returns put the 2018 Oscars on pace to be the least-watched ever.)
Sunday's ceremony honored
The Shape of Water
as Best Picture and was replete, as expected, with speeches and commentaries championing equal opportunities for women in the aftermath of the Harvey Weinstein scandal and its subsequent ramifications for a raft of major film and television actors, hosts and anchors. Frances McDormand, the heavy favorite to win a Best Actress Oscar for her performance in the little-seen
Three Billboards Outside Ebbing, Missouri
, capped her acceptance speech by asking all of the night's women nominees to stand and be counted. Which they did.
Kimmel, former co-host of Comedy Central's aggressively anti-feminist
The Man Show
, then praised her speech and said "I wish I was a woman."
As did NBC's Winter Olympics telecasts, the Oscars dominated all competing prime-time programming despite another year of audience slippage. Fox4's 9 p.m. local newscast and CBS' 7 p.m. rerun of
NCIS
rerun were the runner-ups in total viewers with 121,076 apiece.
ABC's preceding 6 to 7 p.m. red carpet show also clubbed the competition, averaging 398,838 total viewers. Fox's competing special on the late Billy Graham ran last among the Big Four broadcast networks in that hour with 85,465 viewers.
In Friday's prime-time festivities, CBS'
Hawaii Five-0
and
Blue Bloods
tied for the most total viewers with 235,029 while Fox's two-hour
Masterchef Jr
led with 18-to-49ers (40,568).
On Thursday night, CBS'
The Big Bang Theory
easily led all programming in both ratings measurements, with 405,960 total viewers and 127,945 in the 18-to-49 age range.
Here are the four-way Thursday and Friday local news derby results.
Thursday
-- Coming off Wednesday's very rare double grand slam, Fox4 had another big day. The station drew the most 25-to-54-year-olds (main advertiser target audience for news programming) in all four major food groups -- 6 a.m. and 5, 6 and 10 p.m.
Fox4 also had the most total viewers at 6 a.m. and 6 p.m., and tied TEGNA8 for the top spot in that measurement at 10 p.m. NBC5 broke through with a 5 p.m. win in total viewers, narrowly outdrawing Fox4.
Friday
-- Fox4 again ran the table with 25-to-54-year-olds while also winning at 6 a.m. and 5 p.m. with 25-to-54-year-olds. CBS11 won in total viewers at 10 p.m. and TEGNA8 took the top spot at 6 p.m.
Email comments or questions to:
unclebarky@verizon.net