This just in: A night in the lives of D-FW's 10 p.m. newscasts (Fri., Feb. 16)
02/19/07 12:01 PM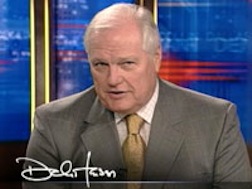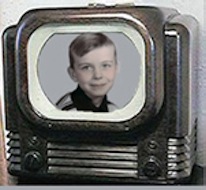 By ED BARK
Belo8 sports anchor
Dale Hansen
invariably says what he pleases, and damn the big cheeses.
He took a big risk on Friday's 10 p.m. news, though, invoking the name of his parent company's devil dog in exile. That would be the virginal little boy pictured above in his Sunday best Perry Como polo. Hey kids, PC was the Diddy of his day.
Hansen chimed in after a report that the Lee Harvey Oswald "sniper's perch" auctioned on ebay had been taken off the market at least temporarily when a high bid of $3 million fell through.
"Our friend Hugh Aynesworth (dean of assassination investigators) says there are at least thee windows that have that alleged distinction," anchor
Gloria Campos
said, turning to Hansen.
"I'm not sayin' a word about it," Hansen rejoined. "No, no. Ed Bark got all upset when I said a joke about it the other day. And if Ed Bark says it, you know it's true."
"Yeah," Campos said gamely before quickly moving on to a closing video snippet of Dallas Cowboys quarterback Tony Romo singing horribly off-key at an L.A. club.
Hansen referred to an admonishment in this space after Belo8 anchors had joined him in laughing about whether President Kennedy had been killed by bullets fired from the Texas School Book Depository or the Grassy Knoll.
"Don't buy the window. It's bogus," Hansen said in part on the Feb. 7 newscast. It was then written here that the assassination is no joking matter, particularly on a Dallas newscast.
Hansen's Bark-as-truthteller riff likely was meant mockingly, but it does look good in the box score. One can imagine various Belo bosses turning whiter shades of pale before quickly segueing to livid beet reds. Oh to be a crystal paperweight in Belo potentate Robert W. Decherd's darkly foreboding command post. The one with the designer guillotine near the marble walking papers bin.
Belo8 otherwise had a meaty Friday night newscast, one of its better efforts during the ongoing February sweeps.
Reporter
Steve Stoler
had a good followup piece on 22 impoverished families being evicted from a code-violating budget hotel in McKinney. Good Samaritans have helped some of them to find new residences.
Colleague
Chris Hawes
had an interesting story on plans to build a possibly dangerous ethanol distribution center near a rail line in Arlington. And
Gary Reaves
reported in depth on an African-American man named Tyrone Brown, who's spent almost 17 years in jail after committing a petty theft as a 17-year-old and then violating his parole by smoking pot. Does the punishment fit the crime? Hardly. The report ended with Brown's mother telling Reaves, "I want him to know that he is truly, truly welcome. And this is his home."
Venerable sports reporter
George Riba
, the only D-FW television reporter with the Texas Rangers in Surprise, Ariz., again had a nice at-bat with a story on new manager Ron Washington.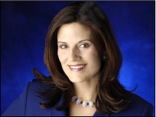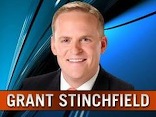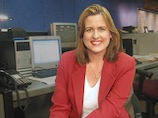 Reporters Gina Miller, Grant Stinchfield and Melissa Cutler
CBS11 likewise had solid work on several fronts.
Jack Fink
reported on the easy counterfeiting of temporary Texas license plates;
Jay Gormley
had a story on a proposed bill that would end new toll road construction until September 2009;
Carol Cavazos
told viewers about a TCU professor who had furnished much of his home with discarded items found in dumpsters and on curbs.
Anchor
Tracy Rowlett
acted pretty frisky on the same day he announced his retirement from TV news in July 2008. He'll also be leaving CBS11's late night newscasts after the February sweeps in favor of current morning anchor
Doug Dunbar
.
After a brief report on Mardi Gras in New Orleans, Rowlett reminded anchor
Karen Borta
that she had tried tried to get him "in trouble" the last time they were there. At newscast's end, he said Borta told him during a break that her mother "hated fish." This referred to an earlier brief on how eating seafood during pregnancies might make babies smarter. Borta sorta played along, saying she could have been a brighter kid.
CBS11 sports reporter
Gina Miller
double-dribbled through her live dispatch from the NBA All-Star game in Las Vegas.
"Las Vegas is the first non-NBA team to host an All-Star team -- All-Star game," she said.
Miller also told viewers, "It's Sin City, Las Vegas. And according to many, it's the perfect place to host the NBA All-Star game."
She likely didn't mean it quite that way.
Fox4's story on possible legislation regulating TV violence was preceded by a
24
promo that ended with Jack Bauer's duplicitous father holding a gun to his head.
Reporter
Melissa Cutler
then mostly used clips from the Fox series to illustrate the "cringe-inducing" fare that has some in Congress ready to pounce. At least she can't be accused of playing favorites.
Fox4 led its newscast with a story on a seedy Henderson County couple that had been padlocking the mother's two teenage girls in an unheated tool shed at night before freeing them for school in the morning.
Reporter
Jeff Crilley
, the soft-spoken Gentle Ben with a Ford tough drive shaft, cornered the just-released boyfriend while Mom remained in jail.
"I need to call you out on this," Crilley told him before the knuckle-dragger reluctantly acknowledged being more than an innocent bystander.
All four stations reported on the abandoned baby left outside the Baylor Institute for Rehabilitation in Dallas. Only NBC5 made a big deal of it, though, leading Friday's newscast with piano music, black-and-white stills and anchor
Mike Snyder's
somber, dime store novel narration.
"A lonely bench," he intoned. "The only refuge for a newborn. Abandoned in the cold."
"All right, we'll pray for that little one," anchor
Jane McGarry
said after reporter
Susan Risdon
said the baby is now doing fine.
NBC5's
Grant Stinchfield
, who's had an ongoing "Price of Power" series, scored with the tale of a young couple who received a monthly bill of $11,100.82 from TXU to keep the lights on in their modest 1,400 square foot home. The company then "corrected" it to $10,983.98 before Stinchfield stepped in and got TXU to admit it had made a clerical error.
Here's Friday's violent crime story count, with the 12-night, 10 p.m. running totals in parentheses:
Fox4
-- 4 (29)
CBS11
-- 3 (27)
NBC5
-- 2 (52)
Belo8
-- 0 (17)