Local Nielsen ratings snapshot (Fri.-Sun., Feb. 3-5) -- Supie LI soars past last year's game but falls short of Pats' 2015 win
02/06/17 10:55 AM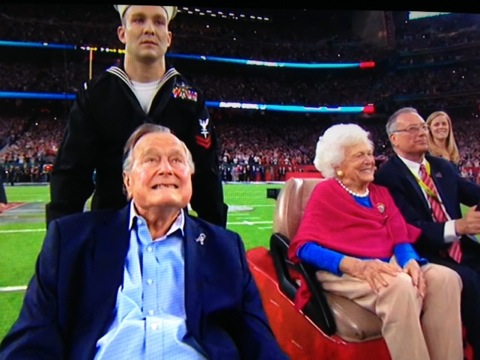 Fresh from their hospitalizations, George H.W. and Barbara Bush basked in a prolonged ovation as they were wheeled in for coin toss.
Photo: Ed Bark
By ED BARK
@unclebarkycom on Twitter
A record-setting Super Bowl LI from Houston's NRG Stadium gave Fox the usual ratings windfall Sunday.
It surprisingly fell short of the 2015 game, though, and also couldn't reach the heights of 2011's Supie XLV from Jerry's Palace.
The New England Patriots' stunning recovery from a 28-3 deficit ended with their 34-28 overtime win over the Atlanta Falcons. The OT was a Super Bowl first, and no team had previously rallied from more than a 10-point hole in 50 previous championship games.
Sunday's game, which ran from 5:37 to 9:24 p.m., averaged 2,675,765 D-FW viewers and 1,154,556 in the advertiser-coveted 18-to-49-year-old demographic. That's considerably up from the Denver Broncos' win over the Carolina Panthers in February, 2016. It pulled in 2,443,428 total viewers and 1,038,454 in the 18-to-49 age range.
The 2015 Super Bowl, in which the Patriots beat the defending champion Seattle Seahawks on a last-second goal line interception, had a higher overall crowd of 2,740,782 viewers in D-FW and also drew more 18-to-49-year-olds (1,258,366) than last night's game.
The D-FW record-setter, since unclebarky.com came into existence in September 2006, is still 2011's
Super Bowl XLV from Jerry's Palace
, in which the Green Bay Packers edged the Pittsburgh Steelers 31-25 after a bizarre week of frigid, snowy and icy weather in North Texas. That game averaged 2,791,057 total viewers and had a peak crowd of 3,068,085 for the final quarter hour.
Sunday's thriller likewise peaked in the final full 15-minute segment, with 2,908,440 viewers from 9 to 9:15 p.m.
Super Bowl LI also featured Lady Gaga's flawlessly spectacular halftime show, which went from 7:13 to 7:25 p.m. after the first half ended at 7:03 p.m. In the 7 to 7:30 p.m. segment, Fox averaged 2,792,102 total viewers, up from 2,668,494 viewers for the 6:30 to 7 p.m. portion of the game.
Fox's post-Super Bowl LI attraction, the premiere of
24: Legacy
, then fell off a ratings cliff after starting at precisely 10 p.m. The one-hour opener averaged 385,368 total viewers and lost audience in each quarter-hour. Last year's Super Bowl post-gamer, a special edition of CBS'
Late Show with Stephen Colbert
, did slightly better with 396,614 total viewers. Six years ago, Fox's post-Super Bowl XLV show, an extended episode of
Glee
, went through the roof in comparison with 983,449 D-FW viewers.
In the key 18-to-49 demographic,
24: Legacy
drew 141,112 viewers, well below the magic 50 percent audience mark that networks cherish.
OK, let's move briefly to Saturday night, where Fox's 7 to 9 p.m.
NFL Honors
show included the announcement that Dallas Cowboys owner Jerry Jones had been inducted into the Hall of Fame. It averaged an unimposing 123,609 total viewers and a measly 16,036 in the 18-to-49-year-old realm. All competing programming on ABC, CBS and NBC (save for ABC's throwaway 7 to 7:30 p.m. NBA pre-game show) drew more 18-to-49-year-olds from 7 to 9 p.m.
In Friday's prime-time Nielsens, CBS' 9 p.m. episode of
Blue Bloods
comfortably led all programming in total viewers with 276,302. ABC's 8 p.m. hour of
Shark Tank
again drew the most 18-to-49-year-olds (60,935).
Here are Friday's local news derby results for the second weekday of the February "sweeps."
After a dismal November sweeps performance, TEGNA8 is showing early signs of being on the comeback trail.
The station edged CBS11 for the most total viewers at 10 p.m. and tied NBC5 for the top spot among 25-to-54-year-olds (main advertiser target audience for news programming).
At 6 a.m., TEGNA8 ranked first in total viewers and ran second to NBC5 in the 25-to-54 demographic.
Both 5 p.m. golds went to TEGNA8, which also was tops in total viewers at 6 p.m. NBC5 won at 5 p.m. among 25-to-54-year-olds, with TEGNA8 a close second.
It marked TEGNA8's best single-day showing in recent memory and almost qualifies as an out-of-body experience for the struggling ABC affiliate. The February sweeps could hold some surprises.
LOCAL TV NEWS NOTE
-- Fox4 is shuffling its early evening local news anchors. Starting on Monday, Feb. 6th, Steve Eagar and Heather Hays will be co-anchoring both the 5 and 6 p.m. editions. Clarice Tinsley moves from soloing at 5 p.m. to soloing at 5:30 p.m., where Eagar had been the only anchor. Tinsley will continue to solo at 10 p.m. after Eagar and Hays co-anchor the one-hour 9 p.m. news, in which Tinsley contributes social media segments.