Local Nielsen ratings snapshot (Tues., Aug. 10) -- Rangers rack up another viewing record with clutch win over Yanks
08/11/10 12:38 PM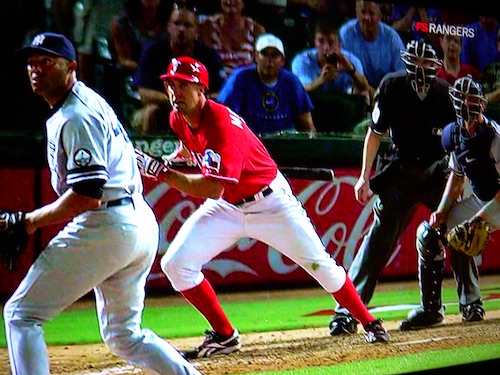 Closer Mariano Rivera reacts as David Murphy whistles a hit to right to give Rangers a 4-3 win in the 10th against Yanks. Photos: Ed Bark
The Texas Rangers skied to a new Fox Sports Southwest ratings record with Tuesday night's extra inning win against the visiting Yankees.
They're still a long way from Dallas Cowboys territory. But an average of 318,956 D-FW viewers (for the game's actual running time from 7:07 to 10:45 p.m.) broke the nearly 12-year-old FSS record set on Sept. 16, 1998 vs. the Angels.
FSS says the Rangers-Yankees game also was seen in more D-FW households than any previous telecast. So far this season, the first-place Rangers' post-All Star game ratings are more than double those of the season's first half.
Tuesday night's extra inning thriller played on through local 10 p.m. newscasts, with the Rangers easily drawing more than double the audience for top-scoring NBC5.
Elsewhere in prime-time, Fox's
Hell's Kitchen
won the 7 to 8 p.m. slot among the Big 4 broadcast networks with 217,162 total viewers. NBC's
America's Got Talent
then ran first from 8 to 10 p.m. with an average of 196,803 viewers.
Hell's Kitchen
also romped among advertiser-coveted 18-to-49-year-olds while the network's new
Masterchef
beat the first hour of
Talent
in this key demographic. Another new summertime entry, ABC's
Shaq Vs.
, stumbled at 7 p.m. with a distant fourth place finish in total viewers. But Shaq nipped CBS' competing
NCIS
among 18-to-49-year-olds to avoid being completely slam dunked.
In local news derby results, NBC5 came within a smidgen of pulling off a very rare double grand slam in the four principal races.
The Peacock topped its news rivals at 10 p.m. in both total viewers and 25-to-54-year-olds, the main advertiser target audience for news programming on most stations. NBC5 also swept the 6 a.m. and 6 p.m. Nielsens while winning at 5 p.m. in the 25-to-54 demographic. Its only loss was in the 5 p.m. total viewers competition, where WFAA8 prevailed over the Peacock by just one-tenth of a rating point (6,786 viewers).
Tuesday's big news, though, was the Rangers, who might well set another FSS viewing record when ace lefthander Cliff Lee takes the mound Wednesday night. Meanwhile, Tuesday's hero, outfielder David Murphy, is the latest recipient of the by now tiresome shaving cream pie in the puss during his post-game interview. Boys will be boys. See for yourself.