The new big pictures at NBC5
04/03/09 01:37 PM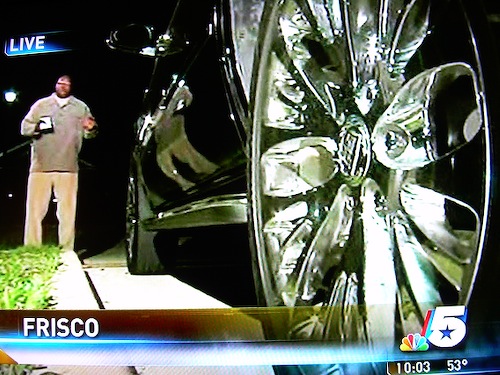 NBC5's Randy McIIwain gets downsized by a big wheel. Photos: Ed Bark
By ED BARK
D-FW's NBC5 lately has stretched its in-the-field pictures to fill the entire screen during high-definition newscasts.
It's the last station to do so among the market's four HD news providers. And although they still look kind of blurry and a out-of-register, they beat the old box canyon look. Someone who knows more about the technology than your friendly content provider can use the comments section to expand on whether these are "up-converted" HD facsimiles or anything even close.
The new look enabled NBC5 to make reporter Randy McIlwain (above) look like a Lilliputian on Thursday's 10 p.m. newscast. His Gulliver was the front wheel of an Escalade. In McIlwain's live "Crime Alert" dispatch, he told viewers that tires from General Motors trucks and SUVs lately are being targeted by thieves.
McIlwain used to be NBC5's self-described "Big Man Bloggin' " until the station's newly designed Web site dealt out most of the staff bloggers. Suffice it to say he's very proud of his plus-size. But that Escalade rim made him look more like a toy soldier in a Godzilla movie.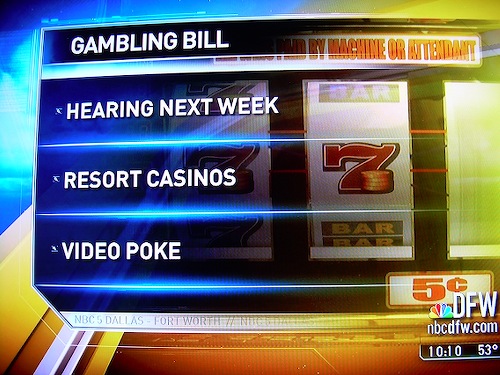 NBC5 later offered a presumably unintended sight gag during anchor Mike Snyder's discourse on a move to make electronic gambling legal at Texas horse and dog racing tracks.
Ever play "Video Poke" before? Or are ya just happy to see me? Snyder remained poker-faced after the graphic was quickly removed. We luvs our NBC5.