Former WFAA8 anchor Macie Jepson and the station reach undisclosed settlement on her discrimination claim
02/09/12 12:53 PM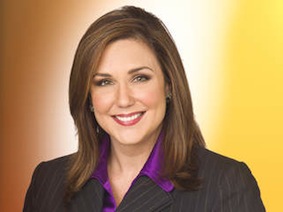 Macie Jepson in WEWS-TV photoBy ED BARK
Three and a half years after
being laid off
, anchor Macie Jepson and WFAA8 have written the last chapter in their relationship with the settlement of her discrimination suit against the Dallas-based station.
No one is talking about the terms of the settlement.
A spokesman for WFAA8 said the station will have no comment. Jepson's lawyer, David Watsky of Dallas' Gillespie, Rosen & Watsky law firm, said via email, "Sorry, but I cannot comment on this." And Jepson herself, now co-anchoring the
Good Morning Cleveland
program
on WEWS-TV
, has not returned emails asking for details and/or comment. She worked at WFAA8 for eight years and was co-anchoring weekday 5 p.m. newscasts when the station laid her off in August of 2008.
This much is known. Jepson did receive some sort of monetary compensation. And scheduled testimony in January on the part of at least two on-camera WFAA8 employees was canceled. All WFAA8 employees who claim discrimination on the part of the station are contractually required to have matters decided by arbitration rather than in a public courtroom trial.
Warranted or not, WFAA8 has been on the receiving end of three discrimination suits that were resolved in the past five years.
In January 2007, former WFAA8 anchor Scott Sams
was awarded a total of $683,771
by an arbitrator. In that instance, both sides claimed victory, with the station saying that Sams received only four percent of what he had asked for while his attorney countered, "That four percent is a 'spin,' and that's putting it mildly."
In November of last year, arbitrator Elizabeth Scott Wood ruled that WFAA8 anchor-reporter Debbie Denmon's claims of discrimination had
"no merit."
WFAA8 president and general manager Mike Devlin issued an official statement in reaction to the ruling, saying in part that "we are glad we fought this to the end and obtained complete vindication of any wrongdoing."
Denmon, who remains at WFAA8, so far has declined to comment.
Fox4 and CBS11 also have been on the receiving ends of discrimination suits in recent years.
CBS11 reporter
Bud Gillett filed suit
in July of 2009, but later dropped it. He remains with the station.
Former Fox4 reporter Rebecca Aguilar, the only one to take her case to a jury trial,
lost her discrimination suit
in December of 2010.
Sams, Gillett and Jepson all were represented by the Gillespie, Rosen & Watsky firm. Denmon's lawyer was Michael Coles of The Coles Firm in Dallas and Aguilar retained William Trantham & Associates of Denton.