Early morning weather worries: What a blast
01/25/08 10:52 AM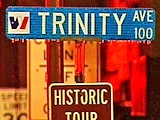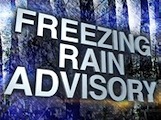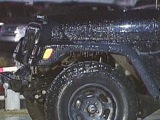 By ED BARK
Send in the cavalry because that pesky little drizzle just might morph into deadly ice shards.
That's a bit of an exaggeration, but you get the picture if you were up early Friday watching D-FW's waker-uppers.
Your faithful correspondent awoke from a fitful sleep well before 6 a.m. to see Belo8 reporter Jim Douglas gamely scraping a few ice shavings off a pylon in downtown Weatherford. He wore a Pete Seeger topper and black leather jacket to ward off the pre-sunrise chill sweeping through North Texas. Over in Collin County, colleague Steve Stoler outdid him in a funny Inspector Clouseau hat accented with eyeglasses that he doesn't usually wear.
In fairness, the possibility had existed of a cold winter's rain turning freeways into skating rinks. Ok, maybe just overhead bypasses would get slicked up in some areas. Or perhaps only a small patch of pavement in Decatur.
Anyway, this is potentially good stuff for TV screens, so three of the four major news providers deployed extra troops both in the field and inside warm studios.
Belo8 summoned well-meaning, big-footing Pete Delkus, who took command while incumbent
Daybreak
weathercaster Greg Fields became his head-nodding first lieutenant. Delkus was in shirtsleeves, so you knew this could get serious.
"The critical issue that we need to talk about this morning are the temperatures," Delkus told viewers. Yep, they were "hovering" around freezing, like a wolf waiting to pounce on a helpless hen house.
Over on CBS11, Fields' wife, Robbie Owens, braved the cold to tell viewers that all seemed clear in Fort Worth. Hellfire, it wasn't even raining.
Still, the station had brand new 10 p.m. weatherman Larry Mowry in the harness, aided by regular morning temperature-taker Julie Bologna.
"We're kind of dodging a bullet to many degrees this morning," the Florida import said dramatically.
Bologna eased off the throttle, telling viewers they could expect a "transition from a mixed bag to regular ol' rain."
CBS also deployed weatherman Jeff Jamison, who stood outside in the Decatur cold brandishing his snappy "laser thermometer." Forecaster Garry Seith of sister station TXA21 chipped in, too, finding some icy "glaze" on a Weatherford pole while wearing a CBS11 ballcap that matched Jamison's.
NBC5 added meteorologist James Aydelott to its in-studio team, with incumbent Rebecca Miller also staying the course as usual. New reporter Omar Villafranca got to stand out in the cold to tell viewers it hadn't gotten too bad yet.
That left Fox4 as early morning's wet blanket -- and overall voice of reason. Evan Andrews, the regular
Good Day
weatherman, somehow managed to soldier on alone without any help from Dan Henry, Ron Jackson, etc.
"No need to push the panic button," he said calmly. And later: "I'm not a ton concerned, just a little" about icy roads imperiling the populace.
Co-anchor Tim Ryan seemed bemused throughout the early morning. He praised Andrews for not telling viewers to buy generators or stock up on other essentials in preparation for any arctic calamity.
"It's really not all that bad out there," Ryan said.
No, it wasn't, and pretty much everyone at all the stations got around to saying that. Still, few things generate broader TV comedy in these parts than the threat or the reality of nasty winter weather. So even a laid-back Fox4 brought viewers the thrill of correspondent Adrian Arambulo sighting an ice-glazed windshield in Denton.
As long as he was out there, it's the least he could do.