Bare market: pal o' mine Michael Precker gets national exposure for himself, The Lodge
02/23/09 05:17 PM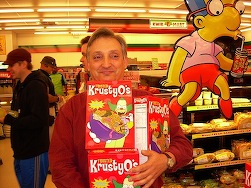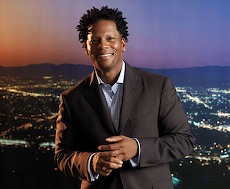 Ya gotta eat: Ex-DMNer and ongoing pal Michael Precker talked about life at The Lodge last week on D.L. Hughley's CNN show.
By ED BARK
And here all I've still got is this lousy Web site.
Meanwhile, former
Dallas Morning News
colleague Michael Precker, who remains a good friend, has gone national in his capacity as co-manager of The Lodge gentlemen's club, where he also bills himself as "writer-in-residence."
Michael recently was the subject of a
Wall Street Journal article
on offbeat career turns for former newspaper reporters. This led to a guest shot over the weekend on CNN's
D.L. Hughley Breaks the News
"You're the Wolf Blitzer of thongs," Hughley told him at one point.
"We have our own Situation Room," Michael riposted.
He encouraged Hughley to drop in sometime to sample The Lodge's first-class food, drink and other niceties. And Michael promised to be as discreet with Hughley as he would be with George W. Bush, who now lives a few miles down the street.
"He would certainly be welcome," Michael said when Hughley asked if the ex-prez might be eligible for a free lap dance. "We are bi-partisan. Mr. Clinton would be equally welcome."
Hughley seemed to like that answer, and promised to drop in the next time he's in Dallas. He'd be in good hands. Here's the clip, which is preceded by a brief commercial: