Local Nielsen ratings snapshot (Fri.-Sun., Feb. 9-11) -- Olympics mostly down but still dominant
02/12/18 11:02 AM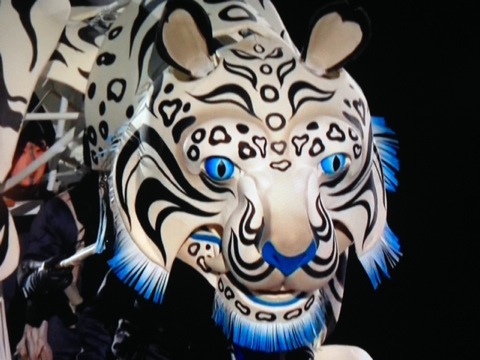 Beast mode: The Olympics opener from Pyeongchang. Photo: Ed Bark
By ED BARK
@unclebarkycom on Twitter
Friday's opening ceremonies of the Winter Olympics from Pyeongchang had a sharp ratings falloff from four years ago in Sochi.
But Saturday's prime-time portion drew a slightly bigger crowd than the equivalent night of the 2014 games while the D-FW ratings were roughly comparable for Sunday's coverage.
Mitigating factors: We live in times when streaming options are much improved and more utilized. And NBC can still crow about the Olympics dominating conventional prime-time TV viewing on all three nights.
Friday's torch-lighter averaged 584,012 viewers and 196,598 in the advertiser-prized 18-to-49 age range. Those numbers are way down from the 731,434 total viewers and 267,049 in the 18-to-49 realm who watched the Sochi festivities.
On Saturday night, though, the Olympics averaged 541,280 total viewers and 199,718 of the 18-to-49 persuasion. These are wee upticks from the 539,699 total viewers and 198,659 in the 18-to-49 demographic for the 2014 Winter Games.
Sunday's Nielsen numbers from Pyeongchang were 548,402 total viewers and an identical 199,718 within the 18-to-49 motherlode. Four years ago, the Sunday prime-time haul from Sochi was 575,205 total viewers. For some reason, unclebarky.com didn't compute the entire 18-to-49 prime-time viewership from four years ago. Notably, though, the Olympics were outdrawn in that key demographic from 8 to 9 p.m. by the return of AMC's
The Walking Dead
, which had 296,360 viewers to the Winter Games' 273,563.
Competing programming was buried this time around. From Friday to Sunday in prime-time, CBS'
60 Minutes
and Sunday's 9 p.m. local newscast on Fox4 fared best in total viewers opposite the Olympics with 170,930 apiece. Among 18-to-49-year-olds on those three nights, ABC's Sunday 9 p.m. hour of
Shark Tank
was runner-up with 53,050 viewers.
Here are Friday's local news derby results.
Buoyed by the Opening Ceremonies lead-in, NBC5 cruised to twin wins at 10 p.m. in total viewers and with 25-to-54-year-olds (main advertiser target audience for news programming).
Fox4 continued its long winning streak at 6 a.m. with another sweep while NBC5 ran the table at 5 p.m. TEGNA8 drew the most total viewers at 6 p.m., and Fox4/NBC5 tied for the top spot among 25-to-54-year-olds.
Email comments or questions to:
unclebarky@verizon.net